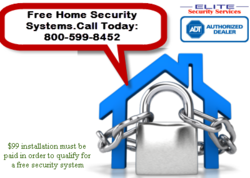 Advanced Window & Door Sensors Introduced to Home Security Systems Packages With Free 3 Point Protection By Elite Security Services
(PRWEB) April 10, 2012
A range of advanced sensors for doors and windows would now be a part of all home security systems plans offered by Elite Security Services. Along with the introduction of these sensors, the company has also announced that the customers of the company can now avail free three point protection with these sensors with their security packages. Elite Security Services is one of the leading service providers in the home protection industry that offers low cost security plans in America and Canada. In less than a year, Elite Security Services is presently one of the most preferred home protection companies in these two countries.
The latest enhancement of the home security systems from the company was officially declared by the owner and founder of Elite Security Services Mr. Paul Shakuri. While introducing these new sensors to the customers of the company he said, "These wireless sensors are much better than the traditional sensors because they cause no harm at all to the beautiful interior of your home. Moreover, wireless sensors can be installed in those inaccessible parts of your home where traditional sensors can not be installed. Sign up today to receive your free three point security with our systems". Along with these sensors, the users would also receive a sophisticated door chime that can send alerts each time any of the monitored doors or windows is opened.
The customers can avail the free three point security by signing up for any of the three home security systems from Elite Security Services. The customers of the company in America and Canada have welcomed the introduction of this component with high enthusiasm. Danny from Atlanta, an existing customer of the company, wished good luck to Elite Security Services stating, "Their growth has been simply phenomenal. With such standard of service, it should not take them long to be the industry leader. I wish them all the luck".
About the Company: Elite Security Services is a rapidly growing company in the home security industry. They offer highly efficient and economical home security solutions in America and Canada.
Contact
Paul Shakuri
Phone: 800-599-8452.
Website: http://www.YourAlarmNow.com