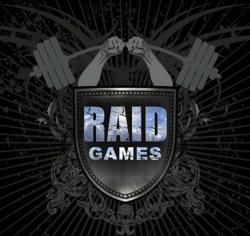 "We were offered a chance to showcase our sport to over 38,000 fitness enthusiasts. To put that into perspective, the 2011 CrossFit Games had 17,000 spectators. We couldn't say no. And to those who say you can't be in two places at once, well...WE CAN!"
Doral, FL (PRWEB) April 11, 2012
Da Factory and 911 CrossFit will be presenting the "RAID Games" at the 2012 Europa Get Fit & Sports Expo. Taking place April 27 – 28 in Orlando, FL, the Europa Get Fit & Sports Expo expects over 38,000 attendees and 8,500 competitors.
This year's RAID will include four divisions, including RX, Scaled, Masters and Kids. The entry fee is $55; registration is now open at http://www.raid-games.com. Registration opens April 1st. The competition is open to the public and all athletes and CrossFitters are welcome to participate. RAID Workouts of the Day (WODs) will be announced Wednesday, April 25, 2012 at the Expo and via email to all registered athletes, as well as posted on the 911 CrossFit & Da Factory websites. Masters and Kids division will be on Friday, April 27, 2012 from 3:30PM to 7:30PM. Scaled division will be on Saturday, April 28, 2012 from 10:00AM to 1:00PM. Following the Scaled division will be the RX division from 2:30PM to 5:30PM. "We want to give competitors enough time to get back and watch Regionals, so no one is there for more than 5 hours," said Da Factory owner Bruno Garcia.
Experienced coaches and volunteers will judge the competition to count repetitions, adhere to movement standards and validate scores. Cash prizes of up to $2,000 will be awarded to participants in the RX division.
The 2012 CrossFit Games Southeast Regionals will be taking place at the same time as the RAID Games and Da Factory members will be participating in both events. When asked about Da Factory's dual competition, owner Bruno Garcia said, "We were offered a chance to showcase our sport to over 38,000 fitness enthusiasts. To put that into perspective, the 2011 CrossFit Games had 17,000 spectators. We couldn't say no. And to those who say you can't be in two places at once, well...WE CAN!"
Both Da Factory and 911 CrossFit would like to extend a special thanks to Power Monkey Fitness Equipment, the main sponsor of the RAID Games.
About Da Factory:
Da Factory is a training facility that focuses on improving a person's athletic performance. They train athletes and non-athletes alike using CrossFit, CrossFit Football, Combine360, and traditional strength & conditioning methodologies to achieve results.
Da Factory is the only facility in South Florida who combines CrossFit, Combine360, and CrossFit Football methodologies to train athletes. They pride themselves in not only training their members but also in showing them a healthy and fit lifestyle. To do this, Da Factory limits class sizes, keeps a family atmosphere and mixes social gathering events into its training schedule.
About 911 CrossFit:
911 CrossFit is a strength and conditioning program based on broadly varied, functional movements performed at high intensity that is universally scalable for all levels of fitness. 911 CrossFit believes the CrossFit training method is the single most effective means of training for high level performance in all disciplines of sports, recreation and workplace.
Contact:
Jose Azize
305.414.5568
Info(at)dafactory(dot)com