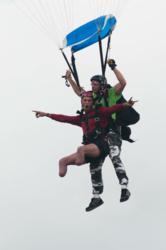 Last year, we were able to raise over $17,000 on a single Saturday for Wounded Warriors by giving the community an opportunity to celebrate our nation's heroes.
Norfolk, VA (PRWEB) April 11, 2012
TroopSwap.com, an ecommerce platform for military and veteran discounts, and the Red Bull Air Force have joined forces to celebrate America's Wounded Warriors through a Memorial Day weekend skydiving event dubbed, Jumping for a Purpose. Wounded Warriors from every conflict dating back to the Korean War will have the opportunity to experience advanced freefall with an experienced instructor while raising funds for Wounded Wear, a Hampton Roads based non-profit organization founded to serve fellow Wounded Warriors. Event organizers anticipate over 5,000 people will attend the event at Skydive Suffolk over the Memorial Day weekend.
Matthew Thompson, TroopSwap's COO and the founder of Jumping for a Purpose, observed, "Last year, we were able to raise over $17,000 on a single Saturday for Wounded Warriors by giving the community an opportunity to celebrate our nation's heroes. This year, thanks to our friends at the Red Bull Air Force and Skydive Suffolk, we expect to raise over $25,000 for Wounded Wear and we're going to extend the event over both days of the Memorial Day weekend. If you like barbeque, music and freedom, we'd like you to come out to the event and to show your appreciation for the brave men and women who will be jumping out of airplanes for their fellow wounded warriors. It'll be a great time."
Perfomers interested in performing at the event may reach out to Matthew Thompson at getinvolved(at)troopswap(dot)com
Individuals interested in sponsoring the cost of a Wounded Warrior's skydive are encouraged to reach out to sponsor(at)troopswap(dot)com
About TroopSwap:
TroopSwap is the first ecommerce platform exclusively for military families. The company is a member of the First Lady's Joining Forces initiative to support military families via the Department of Defense's Military Spouse Employment Partnership. The Service Disabled Veteran Owned company further serves the military community by donating 10% of the company's profits to the Wounded Warrior Project and by focusing on employing veterans and military spouses, who collectively represent over 90% of the company's workforce. To learn more follow TroopSwap on Facebook at facebook.com/troopswap or Twitter @TroopSwap