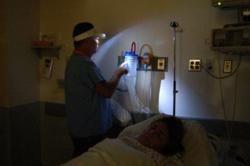 "My patients love when I use The Right Light®, mainly because it is less irritating than turning on overhead lights, and allows others in the room to continue to sleep." -Tracy Baron, RN
Westlake, Ohio (PRWEB) April 12, 2012
The caps enhance a patient's experience and create a more restful environment. Instead of turning on bright overhead lights at night, the light unit, located underneath the brim of the hat, can be easily activated giving the user a concentrated beam of light that will illuminate a desired area with pin-point accuracy.
"As a postpartum RN, I have to check on my C-Section patients every hour," said Heather M. Kwedder, a registered nurse at Lake West Hospital. "Turning on the overhead light wakes up the exhausted new mother and her new born. I used the right light for the first time and it was wonderful! I was able to go in and check on both mother and child without disturbing them at all."
The Right Light ® was invented by Jodi Baron of Westlake, Ohio. "After years of research and countless conversations with both nurses and support staff, we know that our products not only provide a solution to sleep deprivation in medical facilities, they also help improve morale among late night staff by helping them provide a smoother relationship with sleeping patients," Baron said. "Additionally, The Right Light® may also help improve HCAHPS (Hospital Consumers Assessment of Healthcare Providers and Systems) scores over time."
About JAZD-CAP: Jazd-Cap, LLC is a women-owned business located in Westlake, OH. The Right Light® division produces lighted visors that are customized for hospitals and other medical facilities (patent pending). The Right Light Generation 2 division produces lighted visors and hats for a wide variety of industries including pet-care and pet supplies, crafts, higher education, outdoor recreation and more.