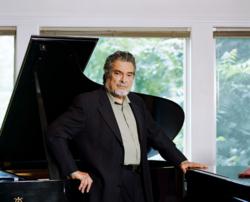 Baltimore, Md. (PRWEB) April 10, 2012
Led by Music Director Marin Alsop, Baltimore-based and world-renowned pianist Leon Fleisher will perform Ravel's Piano Concerto for the Left Hand with the Baltimore Symphony Orchestra on Thursday, May 3 at 8 p.m. and Sunday, May 6 at 3 p.m. at the Joseph Meyerhoff Symphony Hall. Fleisher became a prominent exponent of left-handed piano repertoire when in the 1960s he was suddenly struck with a condition that caused him to lose function of his right hand. The second half of the program features Shostakovich's Symphony No. 7, "Leningrad," which the composer wrote in 1941 as his beloved home city was under a terrible 900-day siege by the German forces. Please see below for complete program details.
Ravel's Piano Concerto for the Left Hand was originally commissioned by Austrian concert pianist Paul Wittgenstein, who had lost his right arm when fighting in the First World War. He commissioned several pieces from prominent composers—including Hindemith, Prokofiev and Strauss—however, Ravel's dramatic and jazz-flavored concerto is the most famous. In a story that seems to parallel that of Wittgenstein's, Leon Fleisher was at the height of success when struck with an illness (now identified as focal dystonia) that caused the fourth and fifth fingers of his right hand to curl up and become completely immobile. Refusing to simply abandon his career, Fleisher renewed and expanded the role of music in his life, focusing on repertoire for the left hand only and forging a new path as a soloist, conductor and teacher. Today he has regained use of his right hand, through Botox injections and holistic massage therapy, and he continues to interpret repertoire for the left hand with eloquence few can match.
When he began writing his seventh symphony in the summer of 1941, Shostakovich was living in Leningrad with his wife and two sons. The invading Nazi forces were sweeping eastward toward the city. By autumn of that year, Shostakovich had written the first three movements and the Germans had attacked and surrounded Leningrad, beginning a siege that would last more than two years. Shostakovich and his family were forced to flee the city and relocate to Kuibyshev, which had become the Soviet Union's temporary capital. After the symphony's premier in 1942 and later its international radio broadcast with the London Symphony, it became a musical cause célèbre: renowned beyond its considerable artistic merits for its symbolism as a statement of resistance to Nazi aggression. Its performance was anxiously sought by orchestras throughout the Allied countries. More than an hour in length, it is famed for an extraordinary, 10-minute crescendo, depicting the brutal advance of Hitler's armies. It also contains one of Shostakovich's superb slow movements, mourning the tens of thousands who perished in the siege.
Marin Alsop, conductor
Hailed as one of the world's leading conductors for her artistic vision and commitment to accessibility in classical music, Marin Alsop made history with her appointment as the 12th music director of the Baltimore Symphony Orchestra. With her inaugural concerts in September 2007, she became the first woman to head a major American orchestra. She also holds the title of conductor emeritus at the Bournemouth Symphony in the United Kingdom, where she served as the principal conductor from 2002-2008, and is music director of the Cabrillo Festival of Contemporary Music in California.
In 2005, Ms. Alsop was named a MacArthur Fellow, the first conductor ever to receive this prestigious award. In 2007, she was honored with a European Women of Achievement Award, in 2008 she was inducted as a fellow into the American Academy of Arts and Sciences and in 2009 Musical America named her "Conductor of the Year." In November 2010, she was inducted into the Classical Music Hall of Fame. In February 2011, Marin Alsop was named the music director of the Orquestra Sinfônica do estado de São Paulo (OSESP), or the São Paulo State Symphony Orchestra, effective for the 2012-13 season. Ms. Alsop was named to Guardian's Top 100 Women list in March 2011. In 2011 Marin Alsop was named an Artist in Residence at the Southbank Centre in London, England.
A regular guest conductor with the New York Philharmonic, The Philadelphia Orchestra, London Symphony Orchestra and Los Angeles Philharmonic, Ms. Alsop appears frequently as a guest conductor with the most distinguished orchestras around the world. In addition to her performance activities, she is also an active recording artist with award-winning cycles of Brahms, Barber and Dvořák.
Marin Alsop attended Yale University and received her master's degree from The Juilliard School. In 1989, her conducting career was launched when she won the Koussevitzky Conducting Prize at Tanglewood where she studied with Leonard Bernstein.
Leon Fleisher, piano
Legendary pianist Leon Fleisher represents the gold standard of musicianship and, at 83 years young, he continues to impart his life-affirming artistry throughout the world, thriving in a sustained career as conductor and soloist, recitalist, chamber music artist and master class mentor.
Fleisher's musical pedigree alone is remarkable: he was the youngest-ever student of the great Artur Schnabel, who studied with keyboard giant and pedagogue Theodor Leschetizky, a pupil of Carl Czerny, who in turn studied with Ludwig van Beethoven. He made his debut with the New York Philharmonic in 1944 and in 1952 became the first American to win the prestigious Queen Elisabeth of Belgium competition, establishing himself as one of the world's premier classical pianists, concertizing with every major orchestra and making numerous touchstone recordings for Columbia/Epic (now Sony). At the height of his success, he was suddenly struck silent at age 36 with a neurological affliction later identified as focal dystonia, rendering two fingers on his right hand immobile. Rather than end his career, Fleisher set off on an epic journey in search of a renewed life in music. He began focusing on repertoire for the left hand only, forging a new path as a soloist, conductor and teacher. Experimental treatments using a regimen of rolfing and 'botulinum toxin' (Botox) injections finally restored the mobility in Fleisher's hand, and for years he has played with both hands, winning enormous acclaim for his 2004 'two-hand' recording aptly titled Two Hands, and several subsequent recordings, most recently Mozart Piano Concertos (Sony Classical, 2009).
This concert season, Fleisher returns to some of Europe's most prestigious musical capitals—London, Paris and Brussels—performing as soloist with the London Philharmonic Orchestra at Royal Festival Hall and in chamber music at Wigmore Hall, with the Orchestre Philharmonique de Radio France at Salle Pleyel in Paris and in recital at Belgium's Palais des Beaux-Arts. He makes his U.K. conducting debut with the Scottish Chamber Orchestra, tours the U.S. with the Irish Chamber Orchestra, and traverses North America in appearances as conductor/soloist with the Toronto Symphony Orchestra and as soloist with the St. Louis and Baltimore symphony orchestras. Chamber music appearances include New York's Alice Tully Hall at Lincoln Center, and historic Town Hall, with memorable master classes given at universities and conservatories around the country.
A recipient of numerous honors and awards, Fleisher received the prestigious Kennedy Center Honors in 2007 for his contribution to U.S. culture, and is the subject of the 2006 Oscar—and Emmy-nominated documentary film Two Hands, written and directed by Nathaniel Kahn (My Architect). His memoir, My Nine Lives: A Memoir of Many Careers in Music, co-written with Washington Post music critic Anne Midgette, is available on Doubleday. He and his wife, Katherine Jacobson Fleisher, a noted pianist with whom he frequently tours, live in Baltimore.
COMPLETE PROGRAM DETAILS
BSO Classical Concert: Fleisher Plays Ravel
Thursday, May 3, 2012 at 8 p.m. –Joseph Meyerhoff Symphony Hall (JMSH)
Sunday, May 6, 2012 at 3 p.m. – JMSH
Marin Alsop, conductor
Leon Fleisher, piano
Ravel: Piano Concerto for the Left Hand
Shostakovich: Symphony No. 7, "Leningrad"
Tickets range from $29 to $68 and are available through the BSO Ticket Office, 410.783.8000 or BSOmusic.org.
###