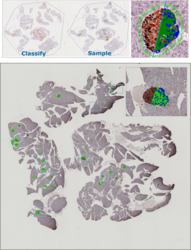 "With the new Proportionator principle, we have demonstrated a several fold increase in efficiency when compared to traditional Systematic Uniform Random Sampling, says Prof. Jens Randel Nyengaard.
Hoersholm, Denmark (PRWEB) April 12, 2012
Visiopharm A/S, a global leader in Quantitative Digital Pathology, announced today that the European Patent Office has issued the European Patent No. EP 2102817, entitled: Proportionator.
Stereology is a method that allows scientists to answer important research questions about the total amount of microstructure in a tissue volume, including at the organ level; and provide statistically unbiased answers with a known precision. Examples are number of cells, trabeculae, alveoli, and other objects. Also total volume, surface area and total length of structures in an organ are examples of what can reliably be quantified. Stereology is the only way to achieve accurate quantitative data about such tissue properties with a known precision.
Scientific communities and regulators with a genuine concern about the validity of quantitative histomorphometric data are increasingly requesting stereological data, or at least evidence that such data is concordant with an appropriate stereological reference. Stereology is now becoming a critical component for a useful Quantitative Digital Pathology platform; and a technical discipline that research professionals with a need to study tissue properties can no longer afford to ignore.
With classical stereological methods and tools, implemented on traditional microscope systems, it is time consuming, repetitive, and costly work to produce stereological data. Typically, service requirements for complex microscope systems are not trivial. Until recently, there were no good alternatives.
Since 2004, when Visiopharm took over the highly respected CAST™ stereology technology developed by Prof. Gundersen, Visiopharm® has invested massively in the development of innovative and efficient stereological techniques and research tools, in close collaboration with the world-leading stereologists at the Stereological Research Laboratory in Aarhus, Denmark. The result is newCAST™ and a patented set of tools and techniques that efficiently overcome the bottlenecks of classical stereology.
The Proportionator™ is the latest addition to this toolbox and a revolutionary stereological sampling principle that allows image analysis to guide the sampling of fields, while still providing statistically unbiased results, which is the hallmark of stereological methods. The Proportionator™ was co-developed with the Stereological Research Laboratory in Aarhus, Denmark, which remains the leading innovators and practitioners of stereology, and are the founders of modern design-based stereology.
Says Prof. Jens Randel Nyengaard, "With the new Proportionator principle, we have demonstrated a several fold increase in efficiency when compared to traditional Systematic Uniform Random Sampling. This is a significant advance for stereology as a discipline, and will allow scientists to implement stereological study designs also in high-throughput environments."
Johan Doré, CTO at Visiopharm adds "We see this new patent as an important addition to our Automated Physical Disector patent, which has already made Whole Slide Stereology extremely efficient by automatically aligning serial tissue sections and sampling perfectly aligned disector pairs. Powering this technology with the Proportionator will further enhance the efficiency, saving users countless hours of repetitive work, and providing quality results with very high precision. We believe that the combination of Whole Slide Imaging with automation of stereology is the key to successful implementation of stereology in life-science research."
"In order to become successful with stereology, it is important to understand that a complete stereology solution is more than a few standard techniques implemented in a software program. It is critical to have a firm grasp of all steps from tissue sampling over Field Of View sampling to counting and reporting of results. Without access to competent application support, the transition can sometimes be a painful and expensive experience for adopters. For almost a decade, Visiopharm has invested significantly in innovation, development, practical work, and people with the right skill-set; and we are developing our technology in close collaboration with the world-leading stereologists from the Stereological Research Lab in Aarhus. This is giving our customers the certainty and comfort that we are able bring them safely all the way through an important and very rewarding transformation, which is in some ways quite radical," says Michael Grunkin, CEO of Visiopharm.
The latest example of how Whole Slide Stereology is applied, using AutodisectorTM and ProportionatorTM, is offered in our Webinar on: "The application of whole slide stereology for cost effective assessment of beta cell changes," on April 12, 2012 by Jacob Jelsing, MSc, PhD, and CSO from Gubra ApS.
About Visiopharm
Over the past 10 years, Visiopharm image analysis and stereology software has become the preferred Quantitative Digital Pathology solution for leading biopharmaceutical companies, clinical researchers, and academic researchers all over the world. Visiopharm has more than 300 deployed systems worldwide and a large network of distribution and support partners, and is featured in over 400 scientific publications.