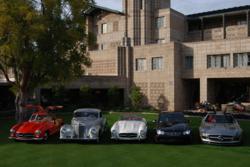 Phoenix, Arizona (PRWEB) April 25, 2012
Mercedes-Benz USA and members of the Mercedes-Benz Club of America (MBCA) will bring rare classic cars and contemporary models to Phoenix as the selected destination for their biennial premier national event, StarFest® 2012. Auto enthusiasts, Mercedes-Benz owners and leasees are invited to this celebrity-studded, week-long event Sept. 28 – Oct 3 to show expertly restored cars at the Arizona Biltmore Hotel and challenge their performance-driving prowess at Firebird International Raceway.
StarFest® 2012 is a one-of-a-kind event that allows Mercedes-Benz enthusiasts to compete for best of show or for speed on the track. Activities include the Concours d'Elegance – a private and public exhibit of rare, historic, refurbished and well-maintained Mercedes-Benz models; the Concours d'Elegance Awards Banquet featuring Honorary Event Chairman Wayne Carini of TV's signature series "Chasing Classic Cars" on Discovery's upscale men's cable network, Velocity; time trials and acceleration runs at Firebird International Raceway, and a challenging rallye drive for Mercedes-Benz drivers throughout Greater Phoenix.
"We're excited to host StarFest® 2012 in Phoenix, where Mercedes-Benz lovers can learn more about the past, present and future of the brand," said John Hutchison, board member of the Phoenix-based Desert Stars Section of MBCA and chairman of the event. "We are celebrating more than 125 years of the Mercedes-Benz brand, the 50th anniversary of our Club, and the 100th year of Arizona statehood."
In addition, StarFest® 2012 will feature never before shown together collections from the Kemp Auto Museum of St Louis, Mo., and the MB Classic Centers in Irvine, Calif., and Fellbach, Germany. Highly anticipated models include rare Gullwings and exceptional 300SL Roadsters. Sunday's showing will be free and open to the public, with donations accepted for the Southwest Autism Research & Resource Center and Autism Speaks.
StarFest® 2012 is sponsored by Mercedes-Benz USA and MBCA, hosted by the Desert Stars Section of MBCA, and supported by generous contributions from businesses across the country. Sponsorship packages and event registrations are being accepted. Visit http://www.StarFest2012.com for more information.
EDITOR'S NOTE: High-resolution images are available of Mercedes-Benz autos and the StarFest® 2012 event location.
About StarFest® 2012
StarFest® 2012 is a biennial Mercedes-Benz Premier National Event that invites luxury car owners and the spectator public to a new location for exciting on-track driving, auto judging, restoration workshops, rally drives, and more. StarFest® 2012 takes place in Phoenix, Ariz., from Sept. 28 – Oct. 3, 2012 and includes a celebrity-studded fundraiser for autism research, featuring Wayne Carini of TV's "Chasing Classic Cars."
About Mercedes-Benz Club of America
The Mercedes-Benz Club of America (MBCA) is a 501(c)7 not-for-profit organization. Founded in 1956, the MBCA is the largest Mercedes-Benz enthusiast organization in the world, serving more than 20,000 primary Members and 8,000 associate members in more than 85 Sections across the United States and Canada.
About Autism Speaks
Autism Speaks is the world's leading autism science and advocacy organization. It is dedicated to funding research into the causes, prevention, treatments and a cure for autism; increasing awareness of autism spectrum disorders; and advocating for the needs of individuals with autism and their families. Autism Speaks was founded in February 2005 by Suzanne and Bob Wright, the grandparents of a child with autism. Mr. Wright is the former vice chairman of General Electric and chief executive officer of NBC and NBC Universal. Since its inception, Autism Speaks has committed over $173 million to research and developing innovative resources for families. Each year Walk Now for Autism Speaks events are held in more than 95 cities across North America. The Arizona Walk is being held Saturday, October 28, and benefiting Autism Speaks and SARRC.
About SARRC
The Southwest Autism Research & Resource Center, founded in 1997, undertakes self-directed and collaborative research, serves as a satellite site for national and international projects, and provides up-to-date information, training and assistance to families and professionals about autism spectrum disorders.