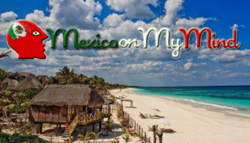 There is so much information and misinformation about Mexico out there, we wanted to personalize the user experience, and offer some real-life advice from people that are actually doing it...
Tulum, Mexico (PRWEB) April 10, 2012
After years of fielding questions from friends, family and a regular stream of tourists, asking questions about how to move to Mexico and why, the idea of creating a resource website for expats and those considering a move south of the border was a natural conclusion. Mexico on My Mind ("MOMM") launches their new website, http://www.mexicoonmymind.com, this week with great expectations. The website will cover places to live in Mexico, places to visit and offer informed insights from U.S. and Canadian expats living and thriving in Mexico. The objective of the website is to remove some of the anxiety from relocating to Mexico by providing information from expats who have done it.
The Mexico on My Mind website project has been evolving over the last couple years. The group had originally founded a website in the spring of 2011 called Gringos in Paradise ("GIP") which was designed as an expat resource with a more international focus. The feedback and requests for information on Mexico, specifically, were overwhelming and demonstrated the need for a website exclusively devoted to Mexico. GIP will still be around and retain its broader focus. MOMM will join it as the premier expat resource for living in Mexico.
"One of the things we noticed, right away, on GIP was that people wanted more information on Mexico. The best places to live, the cost of living, the safety . . . these things kept coming up again and again, and the queries were always about Mexico." Website co-founder, Ron Burdine continued, "There is so much information and misinformation about Mexico out there, we wanted to personalize the user experience, and offer some real-life advice from people that are actually doing it - not just give out statistics and general information. So, we really get into the details of moving and living here, and give some great tips, resources and short-cuts for how to adjust and thrive in Mexico."
Experience and networking are the name of the game with Mexico on My Mind. The articles, resources and information provided have been personally vetted, or experienced, by the writers and members in their network. The website will be in a constant state of evolution with new content being added daily. From tips on the best places to shop, healthcare, finding a vet, finding an address in Mexico or getting around, content is driven by visitor's requests for information. The staff is also reaching out to other expats within each community to provide local insights that only a local can.
The website features an interactive map of the places to live and visit in Mexico, and offers a message board for expats, those thinking of becoming expats or researchers, to ask questions directly of the gringo community in Mexico. One of the unique features of the website is a cost of living calculator and a "Lifestyle" rating system which will give prospects a better idea of what to expect in terms of budget and amenities within a lifestyle scale.
We spoke to MOMM Chief Editor, Shari Farrar, about the lifestyle rating system, "The cost of living in Mexico depends a great deal on where and how you live. Rents, food costs, utilities and entertainment are not going to be the same if you live in a resort area versus a small town in Mexico. Your need for amenities, technology, familiar brand names, etc., also factors into the mix. Our lifestyle system offers only a starting point. It's then up to the individual to tailor a budget to meet their own specific needs."
With a growing number of Baby Boomer Americans and Canadians looking to Mexico for relief in retirement, the Mexico on My Mind staff feels like they are in the right place at the right time. With 10,000 Americans retiring every day, and an unsteady US economy, they may very well be correct.