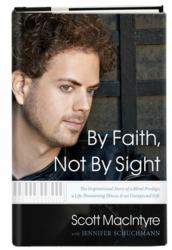 Readers are being offered the opportunity to interact with Scott via video chat or have Scott fly to their town and donate a personal concert.
Nashville, TN (PRWEB) April 11, 2012
Though only 26 years old, Scott MacIntyre has achieved more than most do in a lifetime. As the first-ever blind finalist on "American Idol" Scott inspired millions with his contagious spirit of optimism in the face of adversity. But Scott's story goes far beyond his time on "Idol." Blindness was only the beginning. Now he shares his entire story for the first time in By Faith, Not By Sight: The Inspirational Story of a Blind Prodigy, A Life-Threatening Illness, and An Unexpected Gift (Thomas Nelson, ISBN 978-0-8499-4721-6, $19.99, April 2012).
Through http://macintyrebook.com readers are being offered the opportunity to interact with Scott via video chat or have Scott fly to their town and donate a personal concert - the perfect fundraising opportunity for a local school, youth group, church, or corporation. A visit from Scott could be a great way to encourage kids, teachers, parents, advocates, and business colleagues to reach for their goals and dreams no matter what the obstacles.
Scott's story begins at the age of three when he first played the piano by ear and includes an impressive education, starting college at age 14 and receiving his master's in music overseas as a Marshall and Fulbright scholar. When stage four renal failure tries to stop his dream of studying classical piano in London, England, Scott bravely moves forward and learns to live independently overseas despite his blindness. Then when dialysis, a kidney transplant, a painful recovery and his sister's kidney transplant all attempt to sideline him once more, he perseveres and makes it to the top ten of "American Idol."
Scott defies all odds: having to dance on the "Idol" stage without the benefit of sight and sing with sound monitors that quit working. Despite the obstacles, he goes on tour with the "Idol" cast, records a chart-topping album "Heartstrings," and finds love for the first time. Through an unwavering faith in God and himself, Scott shows readers that our dreams are possible regardless of our circumstances. Though he can't see the world around him, he has been able to see his dreams and pursues them fearlessly.
Scott MacIntyre captivated the nation as the first blind finalist of "American Idol." As an acclaimed singer-songwriter, he has toured in arenas across North America, headlined concerts in Japan, Austria, England, Canada, and the U.S., and written and released his latest CD "Heartstrings," debuting at #18 on the iTunes Pop Album Chart. As an in-demand inspirational keynote speaker, Scott has shared his unique and dynamic life story with many different audiences. Website: http://www.scottmacintyre.com. Twitter @ScottDMacIntyre.