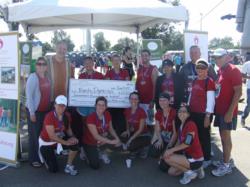 Temecula Valley, Calif. (PRWEB) April 13, 2012
As part of their ongoing "We Care" program, Ponte Winery invites the public to join their ongoing fight against child abuse and neglect by signing up to be a member of "Team Ponte." The team will participate in America's Finest City Half Marathon August 19, 2012 in San Diego and raise funds in support of Rancho Damacitas, a Temecula-based group home that provides specialized care and comfort to children in need.
In recognition of April "National Child Abuse Prevention Month," Team Ponte will hold their kickoff meeting April 25 at 5:30 p.m in the Barrel Room at Ponte Winery. The meeting agenda will cover marathon details, group training runs, future meeting schedules, and information on Rancho Damacitas and its programs. Attendees will also have the chance to win prizes during a Team Ponte raffle. Team members are asked to raise $500 each to secure their participation in the marathon; to encourage participation, Ponte Winery will reward every team member who raises $1000 or more with a complimentary, weeknight stay at the new Ponte Vineyard Inn. The 60-room boutique Temecula winery inn opens in May 2012, adding a new luxury option for those searching for Temecula winery hotels. The registration fee for the marathon will be refunded to each team member who raises $500 in the form of a Ponte Winery gift certificate.
Ponte Winery Managing Partner Claudio Ponte says, "We Care" is a Ponte program that includes our philanthropic efforts and our sustainability initiatives, which tie us to the local community. We put our money and effort where it can do the most good, right here in Temecula. We've chosen Rancho Damacitas because they share our beliefs in helping children in need, with focused, individual care. Together we invite all of you to sign up and join us in the fight against child abuse."
For more information about "Team Ponte" and participation in the half marathon, contact Amy Landolt at 951-694-8855 or info(at)pontewinery(dot)com.
For more information about Rancho Damacitas, please contact Director of Development, Cliff Nunn, at cliff(at)4kidsfirst(dot)org or (951) 302-2307.
For photos, interviews, quotes or additional information about Ponte Winery, contact Anne Alderete or Michelle McCue at (213) 985-1011 or anne(at)mccuecommunications(dot)com.
About Ponte Family Estate:
Located in the heart of Temecula Wine Country, Ponte Family Estate offers guests a complete wine country experience with Ponte Winery, The Restaurant at Ponte, tasting room and marketplace and their newest addition, the Ponte Vineyard Inn, overlooking 300 acres of vineyard. Ponte Vineyard Inn will offer upscale wine country lodging, dining and a full-service bar for those looking to turn their "day in the country" into a "stay in the country."
Ponte Winery was officially recognized as Temecula Valley's "greenest" winery with the achievement of its Certified California Sustainable Winegrowing certificate in November 2011. The winery offers a relaxed experience that encourages guests to follow their palates, ask questions, and ultimately choose wines they enjoy. As the Ponte Winery motto goes, "If you like it, it's good wine!"™
With its picturesque setting, approachable wines, farm-fresh cuisine, upscale lodging and array of activities, Ponte Family Estate is one of the most sought-after and complete wine destinations in Southern California. Ponte Family Estate is located at 35053 Rancho California Road, Temecula CA 92591.
###