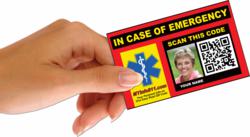 Palm Coast, FL (PRWEB) April 13, 2012
MyInfo911 decided early on that pedestrians were a group that could greatly benefit from its state of the art emergency ID card and related products.
Few would argue the positive aspects of walking, whether from an environmental or personal heath standpoint. Many communities today, as MyInfo911 discovered, place special emphasis on expanding and improving opportunities for its citizens to walk more often, more places, and more safely.
Unfortunately, the downside to walking is increased exposure to accidents, particularly those involving motor vehicles. MyInfo911 found, that according to the National Highway Traffic Safety Administration (NHTSA), there were over 70,000 pedestrian injuries in 2010 alone, resulting in over 4,200 deaths, many involving youngsters under the age of 14.
When a pedestrian is involved in an accident, it is very likely that the person will be alone, and in virtually every case the first responders are forced to administer treatment with no knowledge of the victim's medical history and no time to wait for it.
MyInfo911 Emergency ID cards, stickers, key tags, and other innovative products are designed to be carried by pedestrians at all times and to literally speak for them in the event of a medical emergency. MyInfo911 products feature the state of the art Quick Response (QR) Code, that when scanned by an ordinary smart phone, allows first responders virtually instant access to the carrier's complete medical history, including blood type, allergies, medications, and special conditions. Armed with this knowledge, first responders can then administer care that is both timely and accurate.
Furthermore, MyInfo911 allows for identification of the victim's next of kin, instantly notifying them of the potential emergency situation involving their loved one, and even providing them the precise location of the accident or of the facility that the victim will be taken to for further treatment.
About MyInfo911
Started in October 2010, MyInfo911 provides emergency identification cards that use QR codes to provide pertinent medical history information to first responders and other medical providers. The Palm Coast, Florida based company's cards have the person's picture, name and QR code on the front and the person's name, year of birth, emergency contact, blood type, allergies and specific medical conditions on the back. For more information visit http://www.myinfo911.com.