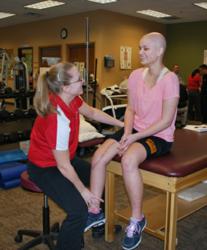 The Metal Walk is symbolic to me. It is a celebration of triumph over pain.
Chicago, IL (PRWEB) April 11, 2012
ATI Physical Therapy is excited to announce a truly unique event celebrating the achievements of people with orthopedic implants and the dedication of the medical staff that helped them return to a normal, active life. The 1st Annual ATI Physical Therapy Metal Walk: Celebrating Movement is a 5K and 1K walk for people with total joint replacements or other orthopedic implants and their supporters.
The event will take place at 10 a.m. on April 28th outside of Soldier Field in Chicago. The 5K and 1K walk includes a beautiful route along Chicago's spectacular lakefront. Participants will enjoy entertainment by Chicago cover band Hi Infidelity, a performance by Jim Cornelison, appearances by special guests, and refreshments.
The walk will benefit the ATI Foundation, a not-for-profit organization that assists children with physical impairments. Beneficiaries, like 16-year-old Megan of Shorewood, receive medical and financial resources to enhance and sustain a better quality of life. Megan required a complete knee replacement and a partial femur replacement due to bone cancer.
Everyone is welcome to join the walk. Participants with metal implants, like Jaime Vander Zanden, clinic director of ATI South Hammond, will wear special metallic shirts signifying their winning battle against debilitating pain. Vander Zanden underwent a spinal fusion surgery to treat back pain that was so severe she couldn't even bend over to tie her shoes.
"After joint replacement or spinal fusion, some patients think they will never be able to do anything again, but they can live active lives," said Jaime. "They may not be able to run a marathon, but they can walk. They can get back to enjoying life. The Metal Walk is symbolic to me. It is a celebration of triumph over pain."
The Premier Sponsor of the ATI Metal Walk is Hinsdale Orthopaedics. Additional sponsors include Remline, Salzaider Family Charity, Chicago Center for Orthopedics at Vanguard Hospital, Midwest Orthopaedics at Rush, OAK Orthopedics and Single Path.
The $25 entrance fee includes event shirt, food, entertainment & fun. Register at ATImetalwalk.com or call 630-296-2222 for more information.
ATI Physical Therapy is a nationally recognized orthopedic rehabilitation provider, specializing in research-based physical therapy, sports medicine, work conditioning/hardening, functional capacity assessments, aquatic health, hand therapy, and women's health. With over 160 locations in six states (Illinois, Indiana, Wisconsin, Delaware, Maryland and Pennsylvania), ATI is known for exceptional results, personalized treatment plans, and an upbeat and fun atmosphere. ATI has been named "Best Physical Therapy Practice in the Nation" by Advance Rehab Magazine and has earned URAC Core Accreditation, a mark of distinction that recognizes ATI's commitment to quality health care. For more information, visit http://www.ATIpt.com.