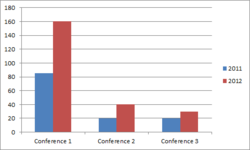 When was the last time you launched a program and your members and community responded with, we want more, more, more.
Jamestown, NY (PRWEB) April 12, 2012
The economy is still staggering, gas prices are still on the rise and travel costs are still preventing many people from attending meetings and conferences. However, many organizations are bringing the conference to their market by Live Streaming select sessions from their physical event to an online audience with remarkable success. This added component is referred to as a Hybrid Event, which is different than a Virtual Event, (an Event which has no physical event going on at the same time).
http://http::/Digitell is one of the premier Live Streaming companies focused on turning Physical Events into Hybrid Events for the non-profit, association market. Digitell is reporting that their clients are seeing an 87% increase in both attendance and revenue from conferences streamed in Q1, 2012 that were also streamed in Q1, 2011, showing that this is a trend that is moving in a positive direction and may result in Live Streaming becoming a standard for conferences and meetings.
"This is one of the most exciting things to hit the meetings industry in years", says Jim Parker, President of Digitell. "When was the last time you launched a program and your members and community responded with, we want more, more, more."
The Feedback from Clients Reveals 12 Reasons Why You Should Live Stream Your Event In 2012:
1. Hybrid Events Are Self-Funding, Generate Revenue and Growing
The market of potential professionals interested in watching your live event remotely is so strong that you are almost guaranteed success. By charging the same registration fee as you would charge to attend the physical event, you can break even with as little as 20 attendees. Our average Live Streaming Events attracts 60 attendees, more than the requirement to break even. SECOND YEAR REVENUE IS INCREASING AN AVERAGE OF 87%.
2. Easy to Execute
Hybrid Events are easy to execute because Digitell does all the work. Plus, everything is already in place and being executed for the physical event. Hybrid Events are just sharing the physical event with those that cannot attend.
3. Requires NO Additional Marketing Effort
Adding a Hybrid Component to your physical meeting is as simple as adding a line in your brochure that says, "Can't attend our Conference in person this year, come join us Online and be part of this great experience." Digitell will create a registration page that highlights the sessions being Live Streamed and make it easy for people to register.
4. Content Already in Place
Since you are tapping into your physical event, there is no need for the creation of new content, like you might do for a virtual event. All your sessions and speakers are already in place.
5. Almost NO Work Load On Associations
Digitell's Platform and Complete Service allows an Association to pull off a Live Stream with minimal additional work. You do not need additional staff or resources to add a successful Hybrid Component to your meeting. Digitell handles registration, e-commerce, on-site capture and streaming equipment and staff, event management, tech support and detailed reporting.
6. Provides Post Conference Content
Live Streaming your sessions provides you with high quality content that can be used post-conference for Re-Broadcasts, On-Demand Access or promotional material for next year's conference. This content is extremely valuable in extending your brand and your reach.
7. Showcases General Sessions
Live Streaming your General Sessions allows you to showcase the best of your conference to those unable to attend, whether they previously attended your physical meeting or are new to your Association. This acts as a marketing tool to keep people engaged and reach out to new future attendees.
8. Excellent User Experience
Digitell's interactive player guarantees your online attendees an excellent user experience. Our trained tech support staff are right on any potential problems and will keep people alert and engaged throughout the entire event. From registration through On-Demand Access, you can be assured that your online attendees will rave about the simplicity and quality of the experience.
9. Plugs Non Attendees Into Annual Meeting
Every meeting has hundreds or thousands of attendees who have attended a physical event in the past but are unable to attend this year. Live Streaming your sessions keeps those people plugged in to your community, makes them feel like they are still part of the experience and keeps that excitement alive, so they are more likely to attend the physical event in the future.
10. Allows for Excellent Revenue Opportunities
Live Streaming allows for multiple revenue opportunities that include charging to attend the online event, charging exhibitors to receive a custom stream to their web site, charging colleges or universities to stream to their web site for student access, charging international or local chapters to use the stream to create their own mini-event, and the opportunities can go on and on.
11. Engages Exhibitors
If you have exhibitors or sponsors, providing them the opportunity to receive the Live Stream or make the content available on their Web site, On-Demand is a very valuable, and sought after, commodity. Your content provides the ultimate in marketing material that helps companies bring prospects and customers together, to their site, to listen to content that supports their mission. By streaming to their site you help them educate their large sales force, who they cannot afford to send to the physical event. What's that worth to a large company? Priceless.
12. Increases Brand Awareness
Broadcast select sessions from your conference for free and introduce your Association to hundreds, possibly thousands of new professionals not familiar with your mission and educational content. Increased exposure results in more Members, more Attendees, more Revenue and more Visibility within your community.
One of the things fueling this growth is the excitement level of the online community who are screaming for more sessions, more events and overall more streaming. This newly tapped into community is greatful for the opportunity to participate in the Live Event and are more than willing to pay the registration fee to do so. This excitement is driving both attendance and revenues up.