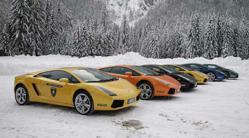 Unlike cold-weather driving schools hosted by more obvious (and terrestrial) manufacturers, Lamborghini's Winter Driving Academy throws six-figure supercars against forbidding terrain and snow-banked competition courses.
(PRWEB) April 11, 2012
Car enthusiasts now have another reason to be excited about and not just because of a new hot super car that is on the way but the chance to get behind the wheel of a car that is loaded with 691 horsepower. If not that is not tempting enough, the masterminds at Lamborghini are offering exclusive access for drivers to take on a icy road course behind the wheel of hottest new editions to their super car line up.
Drivers can take advantage of the Lamborghini Academy which test drivers skill on a man made ice course which drivers are behind the wheels of such super cars as the Lamborghini's mantis like Aventador LP 700-4, race-inspired Gallardo LP 570-4 Superleggera, and angular Gallardo LP 560-4.
The Lamborghini Winter Academy gives drivers a 3 night 2 day driving experience through the most challenging road coarse made of ice with an instructor who guides these drivers through hairpin turns that challenges drivers to learn how to control these ultimate vehicles by drifting or sliding through each turn at unbelievable speeds.
The representative of Billionaires Bunker. com states "These winter driving experience includes accommodations, a quick 20 minute meal and 2 days of solid adrenaline while you try to tame these super cars while driving on a man made icy race track. You are literally taking the bull by the horns or shall I say the bull is taking you on a ride of a lifetime. Well if this doesn't get your blood pumping on all 12 cylinders you might as well just call your local hospice agency and just wait until it is your time to leave this earth."
Read more about the Lamborghini Winter Academy at: http://www.billionairesbunker.com/478/lamborghiniwinter-driving-academy/
This is an opportunity of a lifetime for any car enthusiast and the researchers and developers at Lamborghini are not selling themselves short either. Not only are drivers able to experience the ride of a lifetime, Lamborghini is also gathering information from these drivers as well to improve their all wheel drive models to provide a safer and more enjoyable super car. As these drivers twist and turn through the grueling ice track, Lamborghini is documenting everything from how the car handles and how much G force is produced when the gas pedal is pounded to the floor.
Prepare For The Unexpected and visit http://www.billionairesbunker.com/478/lamborghiniwinter-driving-academy/ to learn more about the ride of your lifetime!