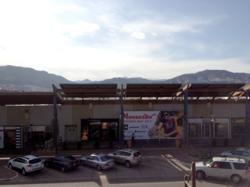 Madison Heights, Mich. (PRWEB) April 12, 2012
Moosejaw Mountaineering, the outdoor retailer known for its quirky, irreverent marketing and unique customer engagement, is set to open their 9th retail shop in Boulder, CO on May 5, 2012.
Moosejaw, a multi-channel retailer based out of Metro Detroit, has begun to expand its retail locations across the country. The shop in Natick, MA opened this past March and construction has begun for the Kansas City shop to open this coming fall. The 4,800 square-foot Boulder shop will be located in the 29th Street Mall, between M.A.C. and Gymboree. Moosejaw has already hired 20 local employees, a few of which were long-time customers of Moosejaw.com.
"Our research shows that our Boulder customer does 65 percent more hiking and 120 percent more climbing than the average Moosejaw consumer," said Steve Fife, Chief Merchant at Moosejaw. "Entry into the Boulder market gives Moosejaw a chance to do what we do best -- sell the world's best outdoor gear and apparel to a consumer base that demands it."
Moosejaw plans to tailor their product offering specifically for the Boulder market. The company will offer an extensive assortment of climbing gear and shoes for sport, trade, and bouldering from brands such as Black Diamond, Metolius, Petzl, and more. Moosejaw will also support the best local brands including Western Mountaineering and Big Agnes.
The local community, customers, and athletes are eagerly anticipating Moosejaw's arrival. After his visit to the new shop in Massachusetts, gold-medal climber Craig Demartino said he is "beyond stoked" for the Boulder shop to open. "Finally we can hit one shop for everything we need outside. Not to mention the awesome vibe the staff and company give, they love the outdoors and it shows in everything they do," says DeMartino.
Brady Robinson, the Executive Director of the Access Fund, welcomes Moosejaw warmly to the bubble, "I think it's wonderful that Moosejaw is opening a shop in Boulder. They're a great company that believes in giving back to the communities that buy their products. They're not afraid to be quirky and unique, which I really appreciate."
Perhaps the most excited of all, are Moosejaw's online customers. "I'm looking forward to the fact that I don't have to just order online now, and with that I can try things on, and see all of the gear in person," says Alex Quigley of Arvada, Co. In addition to the store's wide outdoor assortment, customers will be able to order other products, sizes or colors from Moosejaw.com while they are shopping in the store and have them shipped for free.
Moosejaw will be throwing a grand opening party on May 5th, complete with mustaches, break dancers and New Belgium Beer. The grand opening party is open to the public from 11am to 7pm. No guarantees on how long the beer will last, though. For more details on the event and Moosejaw's Boulder shop, visit NotNakedBoulder.com.
# # #
At Moosejaw we sell the best outdoor gear gear and apparel in the world and have the most fun possible while doing it. Our goal is to engage customers with our unique brand voice and a little youthful enthusiasm. We call it Moosejaw madness. Moosejaw offers products from The North Face, Arc'teryx, Patagonia, Mountain Hardwear, and Black Diamond as well as under its own Moosejaw brand. The company serves a diverse customer base including serious outdoor enthusiasts, active individuals pursuing an outdoor lifestyle, and high school and college students who are passionate about the Moosejaw brand. Moosejaw operates through Moosejaw.com as well as seven retail stores.