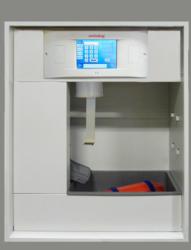 Denver, CO (PRWEB) April 11, 2012
Swisslog, a leading provider of automated materials transport and medication management solutions for hospitals, today announced that it has been awarded an agreement from Amerinet, Inc., for its pneumatic tube system and autonomous mobile robot.
Headquartered in St. Louis, Amerinet is a leading national healthcare solutions organization.
The 36-month agreement is available now to Amerinet-member organizations. The agreement provides Amerinet members pre-negotiated pricing for Swisslog's TransLogic pneumatic tube system and additions, as well as Swisslog's RoboCourier™ autonomous mobile robot.
The TransLogic pneumatic tube system features many patent-pending technological innovations that meet the evolving needs of hospitals. These include carrier tracking, improved ease of use, quiet delivery, and content security. Laboratory, pharmacy, nursing and other hospital departments benefit from the reliable, rapid delivery of time-sensitive patient-specific payloads.
RoboCourier dramatically reduces manual transport tasks within hospitals, particularly labs where specimen turnaround time is essential. The robot can be installed easily with no facility modification, is equipped with laser guidance for obstacle avoidance, and can navigate narrow hallways.
"Our agreement with Amerinet will provide its members with important benefits related to our pneumatic tube system and autonomous mobile robot," said Bob Rasmussen, executive vice president of Swisslog Healthcare Solutions North America. "These materials transport solutions provide outstanding reliability and a rapid return-on-investment by reducing manual transport chores and returning hospital staff to patient-relevant tasks."
Swisslog Healthcare Solutions is the leading supplier of logistics automation solutions for healthcare facilities. Swisslog has installed automated materials transport and medication management systems in more than 3,000 hospitals around the world, including more than 2,000 in North America. Swisslog offers total systems design, manufacturing, installation and customer support providing a complete supply chain management approach to the logistics challenges of hospitals. The North American division of Swisslog Healthcare Solutions is based in Denver, Colo.
About Amerinet
As a leading national healthcare solutions organization, Amerinet collaborates with acute and non-acute care providers to create and deliver unique solutions through performance improvement resources, guidance and ongoing support. With better product standardization and utilization, new financial tools beyond contracting and alliances that help lower costs, raise revenue and champion quality, Amerinet enriches healthcare delivery for its members and the communities they serve. To learn more about how Amerinet can help you successfully navigate the future of healthcare reform, visit http://www.amerinet-gpo.com.
About Swisslog
Swisslog is a global provider of integrated logistics solutions for warehouses, distribution centers and hospitals. Its comprehensive services portfolio ranges from building complex warehouses and distribution centers to implementing Swisslog's own software to intra-company logistics solutions for hospitals.
Swisslog's solutions optimize customers' production, logistics and distribution processes in order to increase flexibility, responsiveness and quality of service while minimizing logistics costs. With years of experience in the development and implementation of integrated logistics solutions, Swisslog provides the expertise that customers in more than 50 countries rely on.
Headquartered in Buchs/Aarau, Switzerland, Swisslog currently employs over 2,000 staff in about 20 countries worldwide. The group's parent company, Swisslog Holding AG, is listed on the SIX Swiss Exchange (security number: 1232462, Telekurs: SLOG, Reuters: SLOG.S). For more information, visit http://www.swisslog.com.