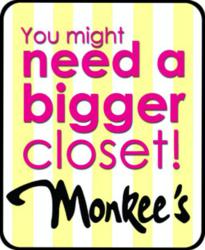 "We have been overwhelmed and extremely grateful for the amount of support we have seen from our customers and community"
- Deirdre Shaw, Founder of Monkee's
Winston-Salem, NC (PRWEB) April 11, 2012
The National Retail Federation announced today that Monkee's LLC is a top 10 finalists of its "This is Retail" video contest, determined after a week of public voting through NRF's Retail Means Jobs website. Over 245,000 votes were cast for the Top 20 finalists between Tuesday April 3 and midnight Sunday, April 8.
Monkee's, a local boutique known for it's selection of ladies shoes, clothing and accessories, was built on a love of fashion, and grown through a focus on personal customer relationships.
"We have been overwhelmed and extremely grateful for the amount of support we have seen from our customers and community," said founder Deirdre Shaw. "Please help us continue telling our story by voting!"
Monkee's is the only North Carolina finalist in the competition, and needs votes to advance in the contest. You can view Monkee's video and vote beginning April 10 at http://www.retailmeansjobs.com/thisisretail/deirdreshaw
"The level of enthusiasm and support for our contest finalists has come from every corner of the country, including Congressional representatives, governors and mayors," said NRF President and CEO Matthew Shay. "The sheer number of votes for these retailers from their customers, business partners, family, friends and communities demonstrates the power of the retail industry and shows how our industry touches every single American."
NRF's "This is Retail" video contest is a part of the association's multi-faceted Retail Means Jobs campaign. The contest was designed to promote retail as a career and demonstrate the multitude of career choices available within the retail industry. The first place winner will receive $25,000 with $15,000 for second place and $10,000 for third place.
About Monkee's LLC
Monkee's LLC is an upscale ladies boutique specializing in clothing, shoes and accessories. Monkee's was founded in 1995 in Wilmington, NC and has become one of the most successful organizations of independently owned boutiques in the southeast. Locally owned boutiques can now be found in Asheville NC, Auburn AL, Blowing Rock NC, Chapel Hill NC, Charlotte NC, Cincinnati OH, Daniel Island SC, Davidson NC, Duluth GA, Fredericksburg VA, Greensboro NC, Greenville NC, Greenville SC, Lexington KY, Nashville TN (Fall 2012), Onley VA, Raleigh NC, Richmond VA, Southern Pines NC, Wilmington NC and Winston-Salem NC. Monkee's LLC Corporate headquarters are located in Winston-Salem, NC. To learn more, please visit us at http://www.shopmonkees.com
Media Contact Information
Nicole Powell
nicole(at)shopmonkees(dot)com
###