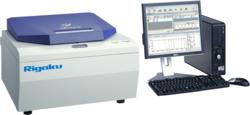 Austin, TX (PRWEB) April 12, 2012
Applied Rigaku Technologies, Inc. is pleased to publish a new application report which details the measurement of sulfur in ultra-low sulfur diesel (ULSD) using the Rigaku NEX CG EDXRF analyzer. The performance complies with ASTM D7220-12, Standard Test Method for Sulfur in Automotive, Heating, and Jet Fuels by Monochromatic Energy Dispersive X-ray Fluorescence Spectrometry (EDXRF).
The Scope of D7220-12 shows a Pooled Limit of Quantification (PLOQ) of 3 mg/kg sulfur, indicating the use of monochromatic EDXRF for the determination of sulfur over the concentration range of 3 to 942 mg/kg. This test method is applicable to gasoline, oxygen enriched gasoline (RFG), diesel, diesel/biodiesel blends containing up to twenty volume percent biodiesel, kerosene, jet fuel, jet fuel/biodiesel blends containing up to five volume percent biodiesel and No. 2 home heating oil.
The Rigaku results demonstrate the superior performance of the NEX CG analyzer for the measurement of ULSD for control and certification of 10-15 ppm S at the pump, as well as lower levels controlled at the refinery, pipeline or tank farm. The NEX CG also complies with IP 352 for ULSD, and can be used to meet US EPA performance-based testing requirements for ULSD.
A copy of this report may be requested at: http://www.rigakuedxrf.com/edxrf/app-notes.html?id=1024_AppNote
About Rigaku
Since its inception in Japan in 1951, Rigaku has been at the forefront of analytical and industrial instrumentation technology. Rigaku and its subsidiaries form a global group focused on life sciences and general purpose analytical instrumentation. With hundreds of major innovations to its credit, Rigaku and its subsidiary companies are world leaders in the fields of small molecule and protein crystallography, X-ray spectrometry and diffraction, X-ray optics, as well as semiconductor metrology. Rigaku employs over 1,100 people globally and its products are in use in more than 70 countries – supporting research, development, and production control and quality assurance activities. Throughout the world, Rigaku continuously promotes partnerships, dialog, and innovation within the global scientific and industrial community.
For further information, contact:
Scott Fess
Product Manager
Applied Rigaku Technologies, Inc.
tel: +1. 512-225-1796
info(at)RigakuEDXRF(dot)com