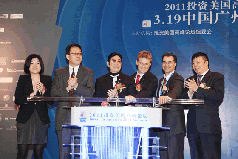 Springfield, IL (PRWEB) April 12, 2012
The 2012 China International Immigration (Interimmi) will be held at the Binhai International Convention and Exhibition Center in the city of Tianjin, China May 19-21, 2012. Tianjin is one of the largest seaport city with a population of 23 million. It takes 28 minutes high speed rail ride from Beijing, and is accessible from all major airports. Artisan Business Group, Inc., is the USA exclusive promoter for the two day trade show organized by Beijing Qucheng Conference & Exhibition Service Co., Ltd.
The 2012 China International Immigration Expo in Tianjin brings together international emigration, overseas education, international real estate investment and other business opportunities in one place for a generation who is planning to start an international career, improve their lifestyle, find a job abroad, escape from every day life, live their life overseas, set up their own business, and discover the world through study abroad, work and business opportunities.
Exhibitions and free presentations from experts in a variety of related fields provide visitors and fellow exhibitors with a copious amount of resources - plus a wealth of free materials - about all aspects of emigrant life worldwide. Every year more than 100 thousand Chinese stay abroad seeking for new life every year, if you are considering to begin your new life in another world such as Europe, Canada, New Zealand, South Africa, Australia, America, Singapore or somewhere else around the world in search of a new life abroad. The event is now accepting international exhibitors that offer immigration services, professional services, educational opportunities and investment projects. US EB-5 regional centers, real estate brokers, law firms and colleges are welcome to participate in the exhibition.
Artisan Business Group, Inc. specializes in China-US investment and business advisory; and has organized various conferences, trade shows and seminars throughout the US and China. For more information about exhibitor applications, contact us today.
Press Contact:
Brian Su
Artisan Business Group, Inc.
http://www.EB5NewsBlog.org