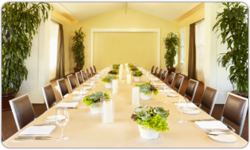 CaterTrax was designed by caterers for caterers—so what better inspiration is there for add-ons and enhancements than our clients
Rochester, NY (PRWEB) April 12, 2012
The Catering Rooms Manager add-on transforms the Catering Module into a single system for both catering and rooms management. The add-on is designed to help catering businesses more effectively manage the designated rooms for which they are responsible. Users can eliminate unreliable paper-based reservations and the hassle of trying to integrate with other rooms-management systems. The customizable add-on allows users to set up their business rules and coordinates their rooms and catering calendars.
The add-on helps users continue to manage and grow their catering businesses by adding even more customer convenience. Customers can reserve rooms online, whether or not they are placing a catering order. The CaterTrax system captures all of their reservation details and preferences, including number of attendees, room layout, reserve equipment, and any special instructions. When customers do include catering with a reservation, the add-on will only allow them to choose corresponding days, times, and delivery methods. And customers can choose to have their reservation added to their Microsoft Outlook® calendar.
"The idea for the add-on came from listening to our clients. They were looking for a way to integrate rooms management into their CaterTrax sites and we saw that as an opportunity to innovate." said Rich Rund, Co-Founder and CEO. "CaterTrax was designed by caterers for caterers—so what better inspiration is there for add-ons and enhancements than our clients?"
This latest innovation comes less than a month after the company released its Social Media Bundle, which added social media features and functionality to its Catering, Take-Out, and Store Modules.
About CaterTrax
CaterTrax was created by passionate professionals who understand the realities of managing high-volume food and hospitality businesses. The co-founders started out with a family-owned catering business where they developed efficient processes for managing large-scale food service operations. These processes became the core of their flagship web-based solution, the Catering Module. Currently the company offers four unique yet complimentary modules that seamlessly integrate together. Each module can be personalized and CaterTrax websites can be easily customized.
From managing and tracking catering events to billing, invoicing, and advanced reporting, CaterTrax is packed with amazing features that help users promote, grow, manage, and sustain their businesses. Regardless of market segment, in 2011 clients on average had a 15% growth in sales, revenue, number of orders, and order size after implementing a CaterTrax solution.