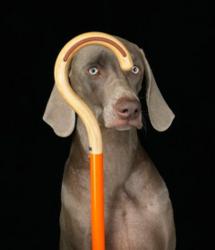 Walk more, live longer and better! When it comes to aging, mood and mental acuity improves with exercise, says Rie Nørregaard, Creative Director of Omhu
New York, NY (PRWEB) April 11, 2012
The health benefits of the presence of a dog are well-documented, and the happiness they impart is immediate. It is impossible to ignore a beautiful dog, and we can't help surface a smile when it begs you to play. The health benefits of using a cane are also well-documented, but until Omhu launched its colorful walking sticks, canes were not considered totems of joy. Like Wegman's Weimaraners, Omhu canes beg you to play and force you to smile.
Omhu Creative Director, Rie Nørregaard, took material inspiration for the Omhu cane from high-performance sports materials like bicycles, skateboards and hockey sticks. Wegman, who happens to be an avid hockey player, could appreciate the unexpected personality of an object or animal repositioned outside its normal environment. It is this playful and artistic approach to the everyday that brings Omhu canes and William Wegman together. The photos will be available on Omhu's website from May 1st, 2012.
The Joy of Walking With a Dog. The Benefit of Walking with a Cane.
A recent study followed more than 2,500 older adults, ages 71-82, for 3 years. Those who regularly walked their dogs walked faster and for longer time periods each week than others who didn't walk regularly. Older dog walkers also had greater mobility inside their homes than others in the study.
In this way, a dog is much like a beautiful walking stick. It will encourage mobility and motivate you to get outside. Studies are not required to gauge the benefits of using mobility accessories, because they are necessary pieces of equipment for many people. Omhu simply imparts the idea that with great care, these assisted activities can bring joy.
Omhu [om-who] is a design concern that makes medical equipment and accessories. Danish for "with great care," Omhu was founded on the belief that life is both imperfect and beautiful. Omhu aims to change the way people think and feel about aging and disability and offers joyful products to support people's abilities as they change throughout life. Omhu is headquartered in New York City and was founded by Susy Korb, Rie Nørregaard and Susan Towers. Omhu was named one of Entrepreneur magazine's "Most Brilliant Companies" in 2011. For more information visit us online at http://www.omhu.com