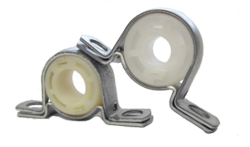 Oshkosh, WI (PRWEB) April 11, 2012
Triangle Manufacturing now offers wood and nylon split bearings designed for ease of accessibility when periodic maintenance, repairs or replacement are needed. Industrial machines with restricted access or complex and layered mechanisms can be very difficult to repair resulting in extensive equipment downtime, lost manufacturing time and wasted hours. Split bearings conveniently allow for access and reduce the need for disassembling complex machinery.
Triangle can provide bearings made of nylon or wood with standard and custom housings and mountings. These light duty, miniature bearings are used in various applications, including food processing and small automotive applications, such as forklifts. The nylon and wood bearings are ideal for humid, hygienic environments and are more tolerant of chemicals than their metal counterparts. Triangle provides split bearings in various sizes, with bores ranging from .379 to a .50 bore, that is ideal for light to heavy duty applications.
Some common applications of Triangle's split bearings are weaving machines, paper and packaging machinery, and light industrial machinery.
About Triangle Manufacturing
For almost a century, Oshkosh, Wisconsin's Triangle Manufacturing Company has used a foundation of experience, paired with technical know-how and advanced automation to be the leader in fully customizable metal fabrication, product innovation and invention. We have introduced and redesigned fresh products that are progressive in their respective industries. Whether you need lazy susan bearings and HVAC components, pillow block mountings and blower bearing brackets or rod ends and direct-drive motor mounts, you can rely on Triangle Manufacturing's Creative Engineering.