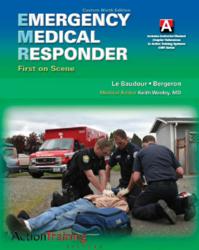 Poulsbo, WA (PRWEB) April 11, 2012
Action Training Systems' custom version of the new "Emergency Medical Responder: First on Scene, 9th Edition" manual published by Brady/Pearson Education was chosen as a 2012 JEMS Hot Product. The two companies worked together to create this custom manual as a companion training resource for Action Training Systems' new 25-title Emergency Medical Responder (EMR) series. Both the manual and training programs are based on the National Emergency Medical Services Education Standards (NEMSES).
"Emergency Medical Responder: First on Scene, 9th Edition" is the new edition of "First Responder" from Brady, by Chris Le Baudour, J. David Bergeron, Gloria Bizjak and Keith Wesley. The manual is the leader in the field and provides clear first-responder-level training for fire service, EMS, law enforcement, military, civil, and industrial personnel. The new 9th Edition retains many successful features from previous editions and includes new topics and concepts that have recently become part of most Emergency Medical Responder programs. The foundation of this text is the new National EMS Education Standards for Emergency Medical Responders and the 2010 American Heart Association Guidelines for Cardiopulmonary Resuscitation and Emergency Cardiovascular Care Science.
The customized version of the new Emergency Medical Responder: First on Scene, 9th Edition includes instructor/ student chapter references to Action Training Systems' all new 25-part EMR series. This high-quality DVD series features professional responders in a variety of emergency situations, demonstrating patient care techniques. Each program is 15-20 minutes long, and is divided into four to six specific training objectives. These training objectives are referenced in the manual and make it easy for an instructor or student to coordinate their use of the Action Training Systems EMR series with the Brady book.
About Action Training Systems
Action Training Systems has over 24 years of experience and knowledge producing training programs for emergency responders. The company provides high-quality content and video demonstrations on DVD as well as interactive computer-based training (CBT) and scorable simulation courses that all run on the Iluminar Learning Management System (LMS) software platform.
Other training series by ATS include the Essentials of Fire Fighting, Emergency Medical Responder, Infection Control & Prevention, HAZMAT, Fire Service Recue, First On Scene, Fire Officer 1, Industrial Fire Brigades and much more. Their training is a valuable resource to a variety of industry professionals including—but not limited to—firefighters, law enforcement, industrial first responders, private security, private ambulance, military, safety officers, HAZMAT teams, search and rescue, utility workers and all other emergency responders.
For information, visit http://www.action-training.com.
Contact Information
Elise Andreasen
elisea(at)action-training(dot)com
800-755-1440