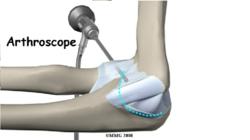 CAPITOLA, Calif., (PRWEB) April 11, 2012
Last week's elbow surgery on Joakim Soria, closer for the Kansas City Royals, refocuses attention on preventing overhead throwing injuries, according to Dr. Christian Heywood, partner in Santa Cruz Orthopaedic Institute.
Soria, who recently injured his right elbow injury in spring training, underwent a "Tommy John Surgery" that grafted a tendon from his body to replace his ulnar collateral ligament, and will miss the season.
Soria is a prime example of the risk for throwing athletes who perform a repetitive motion with their arm. Baseball and softball players are obvious examples. Current statistics show one in every seven professional pitchers have had the surgery, and the trend is growing dramatically among teenage pitchers. Other athletes are at risk as well – those who repetitively spike or block volleyballs, throw a javelin and serve a tennis ball.
"Trainers, coaches and parents can minimize the risk of injuries by emphasizing proper techniques and conditioning," said Heywood, an orthopaedic surgeon who specializes in sports medicine and arthroscopy and has been among the team physicians for the Los Angeles Dodgers and Anaheim Angels, among other professional teams. "The repetitive nature of the motion places these athletes at risk for overuse injuries."
These injuries are compounded when there is a flaw in technique, or when an athlete continues to play through an injury. While the shoulder and elbow receive a lot of attention for injuries, they are actually the final link in the chain of events that generate energy to throw an object, Heywood explained. The entire body plays a role in the motion of throwing and is at risk for injury.
Energy generated in the lower extremities is transmitted through the torso to the upper extremity, which directs the movement of the ball. Improper throwing mechanics can be present in any of these steps. When one link in the chain of events is flawed or injured, additional stress is placed on the other parts of the body that try to make up for the deficiency.
Rehabilitation of throwing injuries focuses on the entire individual, added Heywood. Throwing mechanics are reviewed to identify any areas for possible improvement which may relieve undue stress on the joints. Coaches and therapists are invaluable resources to evaluate mechanics and help the athlete make necessary adjustments.
Specifically designed therapeutic exercises supervised by a therapist or trainer can then strengthen and stabilize the involved joints. These exercises focus on all phases of throwing and the corresponding anatomy: knees, hips, trunk, shoulders and elbow. Core strengthening is essential in rehabilitation. Not only do the core muscles transmit energy from the lower to upper extremities, they stabilize the entire body throughout all phases of throwing.
Heywood advises that trainers and coaches keep a careful record of pitch count and games played for each athlete. Research has demonstrated that injuries in adolescent throwers are related more to the number of pitches thrown more than any other factor. Both the American Academy of Orthopaedic Surgeons and the American Academy of Pediatrics have issued recommendations regarding pitch counts in adolescents. Above all, these recommendations highlight the need for youth sports to focus on fun.
More information is available at http://www.santacruzortho.com, or by calling (831) 475-4024.
Contact:
Gail DeLano
DeLano Communications
(831) 588-1567; gdelano(at)sbcglobal.net
Randy Kensing
Santa Cruz Orthopaedic Institute
(831) 475-4024; rkensing(at)pmgsc.com