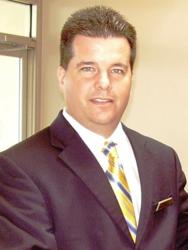 It's an honor to lead the iconic Hyatt Regency Greenville hotel and be a part of the NOMA Square revitalization project. The future of downtown and specifically the north end will be vibrant, exciting and still greet you with charm & southern hospital
Greenville, SC (PRWEB) April 11, 2012
It's an exciting time in the life of Hyatt Regency Greenville. The 30 year old property is currently undergoing a complete transformation through a comprehensive, cutting edge, multimillion dollar renovation. It's only fitting that the leadership of the hotel is positioned to offer exceptional service to match the beautifully renovated space. Jim Berkley, a Greenville native, has moved home to do just that.
DJ Rama, President of JHM Hotels says, "I've known Jim for many years and he is a proven leader. We're excited to have him return to his hometown of Greenville and take over our flagship hotel for the company and for our community."
Jim Berkley came to Greenville from the Renaissance Orlando Airport, another JHM Hotels property. There he oversaw and managed an extensive renovation and repositioned the hotel as a market leader. As General Manager, he was responsible for driving annual revenues to new heights, including growing the food and beverage sales in the Renaissance's extremely busy conference space and restaurants. That experience will serve Jim well at Hyatt Regency Greenville, as he manages the renovation and opens the new demonstration kitchen restaurant, Roost. Berkley achieved and holds the coveted Certified Hospitality Administrator designation, and has won many awards, including General Manager of the Year for JHM, Marriott Award for Best Renovation, and Marriott Guest Satisfaction Award.
On his new role, Berkley says, "It is an honor to return home and lead the iconic Hyatt Regency Greenville hotel and be a part of the NOMA Square revitalization project. The future of downtown and specifically the north end will be vibrant, exciting and yet still greet you with charm and southern hospitality."
Berkley's hobbies are baseball and football, and he has a winning record as a head coach for several Florida youth baseball teams. Mr. Berkley is married with three children including a son in the United States Army Intelligence Division and a younger son and daughter who both excel as Honors students in their junior prep school and both are active in multiple sports & athletic teams at their school.
About JHM Hotels:
JHM Hotels, a premier lodging company, based in Greenville SC, has developed, acquired, owned, and operated hotels throughout the United States for 37 years. The company currently owns and operates 43 hotels with over 7400 guestrooms, located in the United States and India, operating under such well-known brands as Hyatt, Marriott, Hilton and Starwood. For more information, visit our web site at http://www.jhmhotels.com.