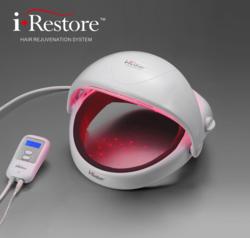 Los Angeles, CA (PRWEB) April 11, 2012
Freedom Laser Therapy is pleased to announce the release of the iRestore Hair Rejuvenation System's Rechargeable Battery Pack with Belt Clip; now iRestore users can treat their thinning hair effortlessly, since they no longer need to be positioned near a power outlet to use the at home laser hair restoration treatment device.
The iRestore Hair Rejuvenation System's Rechargeable Battery Pack with Belt Clip is an external and optional accessory allowing the user the freedom of mobility while treating their thinning hair. The battery pack offers the user the ability to have 3 hours of usage without needing to recharge it. The iRestore remote control clips into the battery pack holster, and the pack easily plugs into the remote. The user has a choice of clipping the ultra lightweight battery pack to their belt, laying the pack next to them or placing the device in their pocket for easy mobility. The iRestore Rechargeable Battery Pack with Belt Clip sells for $79.95 plus shipping and handling.
At home laser hair therapy treatment devices have become hugely popular as a drug free method to promote healthier hair and to prevent future hair loss. Previously many people experiencing hair loss were paying as much as $4,000 per year and traveling weekly for two 20-minute low-level laser therapy treatments at a professional hair loss prevention clinic. These new high tech at home Laser Hair Therapy devices are truly benefiting consumers, because they are comparable to professional clinic units, and now save hair loss suffers substantial time, money, and hair.
In Touch Weekly Magazine recently reported that even soon to be 50 year old Actor, Tom Cruise, is using laser hair therapy to retain his movie star head of hair. At home Laser Hair Therapy devices have become the new hot celebrity choice to treat early to moderate stages of hair loss.
ABOUT FREEDOM LASER THERAPY
Entrepreneur and Freedom President Craig Nabat, learned about low-level laser therapy in Canada after ending his nicotine addiction and in April 2003, he established Freedom Laser Therapy. Craig became fascinated with the laser therapy technology after treating thousands of smokers using a pain free and non invasive low-level laser in his Los Angeles based clinic.
A Freedom Laser Therapy client and laser hair therapy clinic owner introduced Nabat to this revolutionary hair loss solution to restore and help stop the progression of hair loss. Nabat had personal experience with hair transplants surgery and knew he would face going through the transplant procedure again in the future, due to how the process of male pattern baldness occurs. His discovery that a similar low-laser laser not only helped smokers break their nicotine addiction, but the technology could also rejuvenate hair follicles really intrigued Craig; and he and his experienced engineering team began a 3-year quest researching how to develop a personal use Laser Hair Therapy device for the home...and the iRestore Hair Rejuvenation System was born. For more information: http://www.irestorehairlaser.com or http://www.freedomlasertherapy.com