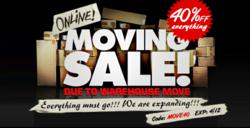 City of Industry,CA (PRWEB) April 11, 2012
AMIClubwear is expanding to accommodate burgeoning company growth AND it is starting everything off with a bang that will be heard everywhere in the fashion sphere! When that shot is fired, eager shoppers better be at the starting line to get their hands on terrific AMIClubwear items that will be unloaded at unbelievably low prices! Shoppers who are bent on getting the biggest bang for their hard-earned buck are advised to prepare to duke it out with fellow shoppers (who are just as determined to snag the best discount buys) from April 10 to April 12, 2012. Fashionistas have to be fast on the draw with coupon code MOVE40 , or else the ultimate fashion prize may go to the quicker promo-slinger.
AMIClubwear is expecting a cavalry of intense shoppers with their eyes on mega discount items (including items on clearance) that just have to go. Though there will be a multitude of products put on a massive clearance sale, savvy shoppers will not miss this opportunity to stand their ground in a promo duel for the best AMIClubwear shopping items. Newbies better be ready with a keen eye for what they want, and an unerring aim using MOVE 40.
There is no room for even a moment's hesitation when fashionistas see an item that catches their eye. A moment's hesitation means losing fashion ground to another. Fashion duels will be intense because the fashion bounty includes:

Lace bikinis(in fruity shades), that are delicately sexy as well sturdy.
Lacy monokinis in delicious hues that bring out the beach vamp in every woman.
Floral minis (in petal shades) that bring out a woman's soft femininity, simply perfect for spring.
Light as gossamer mullet dresses that make a delectable spring statement in vivid colors.
Maxi dresses in cool pastel shades like mint green and pale lilac for lazy spring and summer days; perfect for giving ladies that long silhouette they covet.
Light and breezy rompers in flirty designs that could include ruffles, flower prints, and tribal prints.
Outfits in sassy neon colors to brighten up the brightest of days! Choose from a solid neon outfit, neon color blocking, vivid animal prints, or eclectic tribal prints.
Gorgeous sandals embellished with delicate blooms or colorful gem stones to show off that perfect summer pedicure.
Neon heels in ultra-bright shades of orange, fuchsia or yellow, to light up the ground you walk on when you make an entrance.
A lot more items are actually up for grabs, but given the large numbers of promo slingers who won't waste any promo bullets to enjoy quality fashion loot at a bargain, avid shoppers are advised to use promo code MOVE40 without restraint. Because massive discounts offered from April 10 to April 12 will leave no room for any kind of regret.