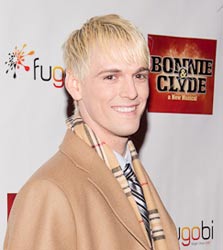 New York, NY (PRWEB) April 11, 2012
On April 10, TheaterMania reported that Aaron Carter has once again extended his run in the Off-Broadway production of "The Fantasticks," playing at the Snapple Theatre Center and will now continue in the role of Matt through July 22.
A modern twist on "Romeo and Juliet," the musical features music by Harvey Schmidt and book and lyrics by Tom Jones. The production is directed by Jones and also features Bill Bateman, MacIntyre Dixon, Tom Flagg, Matt Leisy, Addi McDaniel, Michael Nostrand, Dan Sharkey, Juliette Trafton, Edward Watts, and Charles West.
Carter is a triple Platinum Recording Artist. Among his albums are "Another Earthquake," "Aaron's Party: Come and Get It," "2 Good 2 B True," and "Oh Aaron."
For more up-to-the-minute theater news, show listings, video, features, reviews of Broadway Shows and tickets visit TheaterMania.com.
About TheaterMania.com, Inc.
TheaterMania.com is the information and ticketing source for over 5,000 shows nationwide. For over ten years, TheaterMania.com has connected the theater community to the public as the leading online resource for consumers to find shows, get tickets, and save money to theater nationwide. TheaterMania.com publishes comprehensive show listings, provides Broadway ticket discounts, editorial content, and video coverage for over 40 markets and widely distributes free email newsletters and special offers to over 675,000 registered subscribers. In addition, TheaterMania.com creates online marketing programs for performing arts organizations, and provides technology to power ticketing, fundraising, and CRM through its proprietary software, OvationTix.