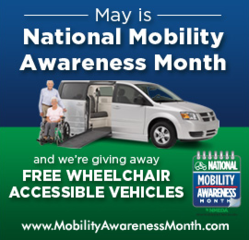 At Advantage Mobility Outfitters, we are behind this effort 100%. We really hope our "local heroes" here in Michigan, Indiana and Ohio, will take this opportunity to share their stories and experiences with the world. They've always been our heros
Wayne, Michigan (PRWEB) April 10, 2012
To bring attention to the mobility challenges faced by over 18 million people in the United States and Canada, for the first time ever, the National Mobility Equipment Dealers Association (NMEDA) has designated the month of May as National Mobility Awareness Month. Advantage Mobility Outfitters, a Michigan mobility company, and a NMEDA member, supports and promotes this worthy endeavor, designed to both inform the public about the country's second largest minority group and reach out to its members, raising awareness about adaptive mobility solutions available to help them overcome their mobility issues and lead active, fulfilled lives.
Part of the National Mobility Awareness Month promotion, three brand new wheelchair accessible vehicles are up for grabs courtesy of NMEDA and participating dealers. To be eligible, participants can submit a short inspirational story up to 400 words or up to 3 minute video of how they overcome their mobility challenges through May 13 at http://www.MobilityAwarenessMonth.com. A family member, friend or caregiver can also submit an entry. The general public will have the opportunity to vote for their favorite "local hero", and the winners will be announced on a popular national TV show.
"At Advantage Mobility Outfitters, we are behind this effort 100%. We really hope our "local heroes" here in Michigan, Indiana and Ohio, will take this opportunity to share their stories and experiences with the world. They've always been our heros, and hope that others will take the time to reflect and appreciate the courage and determination it takes for our veterans, seniors, and all people with physical disabilities to do what most of us take for granted - be independent and live a normal life." said Jeff Stys, general manager of Advantage Mobility Outfitters.
Advantage Mobility Outfitters has been providing custom mobility solutions to fit the individual needs, budget and lifestyle since 1979. Our products and services include: new and used mobility vans, custom van and mini-van conversion packages, wheelchair and scooter lifts and ramps, driving aids, and more. As a member of the National Mobility Equipment Dealers Association, a top 3% Braun dealer and an affiliate of Special Tree Rehabilitation Tree, we maintain the highest standards of manufacturing and customer care.
For further information, contact Advantage Mobility Outfitters: 3990 Second Street, Wayne, MI 48184, phone number: 1-800-990-8267, or check out our website: http://www.AdvantageMobility.net