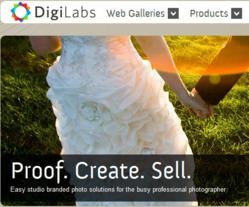 Its more awareness than anything else.
Palo Alto, CA (PRWEB) April 23, 2012
DigiLabsPro, which provides professional photographers with a comprehensive and flexible online proofing and fulfillment solution, today announced it had added to its site a free white paper names "Protect Yourself from Risks and Liabilities" offering wedding Professional Photographers simple ideas and ways to avoid as much as possible risks and liabilities.
As reported in the NY Times (11/2011) guy sued his wedding photographer after getting divorced, demanding a recreate of the entire wedding. (Supreme Court of the state of New York County of New York-Todd Remis Vs. Kurt B. Fried and H&H photographers of New York Index No. 116050/09)
Given that photography is a big-ticket item (in 2011, wedding photography was on average $2,900 out of $27,000 in total average wedding expenses) and the photographs last practically forever, the risk is real. Suing wedding photographers can come in different shapes and can hit all kinds of photographers. In a case from 2009, reported by the NY Post, a bride sued a well known photographer claiming she drove her to post-traumatic stress disorder by snapping racy pictures before her wedding - and posting the "offending photographs" online. (NY State Unified Court System, Appellate division first department, Bostwick vs. Christian Oth index 116010/09)
"While lawsuits can arise over many situations and there is nothing that is lawsuit-proof, there are some simple ways to minimize the risk," said Chanan Steinhart, CEO and a co-founder of DigiLabs. "And even more important, these ideas can prevent misunderstandings which most times are the base for a bitter relationship which ends up in court, or almost equally damaging, unfavorable reviews online. These are not complicated ideas and will not take lots of time to implement, it's more awareness than anything else."
A free white paper listing these tips is now available on DigiLabsPro for download for professional wedding photographers, on the top right registration area.
About DigiLabs Pro
Since 2001 DigiLabs Pro has been an innovator in product and technologies designed for professional photographers. With its free workflow software professional photographers can:
Upload richly customized ecommerce enabled web galleries with studios' look & feel (DigiLabs is invisible to photographers' customers).
Create & order photographic lab services including albums, prints, proof prints and photographic proof books as well as other pro products like Gallery wraps.
Create and order custom, press print products including Coffee Table Photo Books, Cards, Promotional cards, Double-Sided Proof Magazines and Calendars.
Media Contacts
Anna Krebs
DigiLabs Pro
650-390-9749
press(at)digilabspro(dot)com