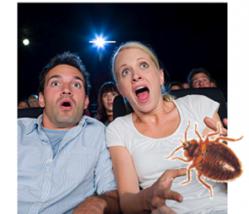 ...for a fast and easy way to eliminate the pests, the site said that the use of bed bug spray is the best treatment to implement.
(PRWEB) April 12, 2012
Bed bugs have been headlining news for the past few years now. And with their infamy all throughout the country, even the world probably, it's not much of a surprise for many that they are soon to have a movie. However, with a movie or not, bed bugs are still pests. And for all the unpleasant things that they can bring, any bed bug sufferer must eliminate them, said BedBugBully.net.
The said movie featuring the small blood-sucking insects will be based on a best-selling novel entitled Bedbugs as reported by CinemaBlend.com. Ti West was the hired script writer of the film.
Written by Ben H. Winter, the novel revolves around a small happy family who just moved in a Brooklyn apartment. Soon after their transfer, they were troubled by what they deemed bed bugs. However, with no sign of the troublesome pests seen, they are faced with a more mysterious problem.
Given that the story's plot is in New York where bed bugs have been causing havoc, critics believe that many can relate to the movie.
Here's part of the news about Bed Bugs to Tap Theaters from BedBugBully.net
You may be tired hearing or reading this but bed bugs are really now everywhere. You hear news about them in hotels, hospitals, stores, furniture shops and even on trains. And now, they are conquering even the theaters and I mean they're not just infesting the chairs and the curtains. They will be on-screen.
Inspired by them and the dread and fear that they bring, a movie is said in the works to feature them. Ti West, the writer and director of the movie The Innkeepers, was hired as the script writer. The movie will be based on the best selling horror novel by Ben H.Winter entitled, what else but Bedbugs.
Read more about Bed Bugs Soon to Have a Movie at: http://www.bedbugbully.net/1249/bed-bug/bed-bugs-conquer-theaters/
Bed bugs bring in dread and a lot of other problems. Because of that, there is no reason not to eliminate them. And as said by BedBugBully.net, there are a lot of products and methods that one can use and implement to get rid of bed bugs. However, for a fast and easy way to eliminate the pests, the site said that the use of bed bug spray is the best treatment to implement.
However, among all the bed bug products available, a pesticide-exempt bed bug spray is what it only recommends. As it said, it's the kind of solution that can deliver an effective and safe treatment. Hence it's the one that must be picked.
Find the right bed bug spray. Visit http://www.bedbugbully.net today.