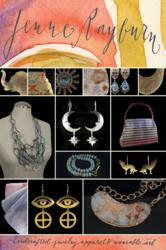 Unique jewelry and accessories that will enhance a woman's individuality.
Boston, MA (PRWEB) April 11, 2012
Jenne Rayburn, the avant-garde jewelry and fashion brand known for stunning designs that combine a contemporary and vintage aesthetic, today announced that founder and creative director Jenne Rayburn will be speaking at Mass Innovation Nights (MIN) held at the Appleton Mills, Lowell, MA on April 11th at 6:00pm. Jenne Rayburn is one of four companies chosen by online voters to showcase their products and services at the event. The other Massachusetts-based innovators who have been selected to speak are The Fashion Truck, Bizulu, and The Path.
Held once per month and open to the public, Mass Innovation Nights provides innovators and entrepreneurs the opportunity to connect with the mainstream media, the marketplace and each other. The event allows companies to unveil new products to an audience of social media enthusiasts, mass and industry media, potential customers and prospective partners.
"As an aspiring entrepreneur and a jewelry and fashion design start-up, this is a tremendous opportunity to connect face-to-face and online with a broad audience, and to tell our story," said Jenne Rayburn, Jenne Rayburn founder and designer. "Mass Innovation Nights showcases the best of new and innovative products from local Massachusetts-based companies and Jenne Rayburn Handcrafted Jewelry and Wearable Art is thrilled to be among those chosen to present."
Jenne Rayburn has six collections, each with it's own interesting story, designed for the dynamic modern women and the many roles she plays. The collections coalesce femininity and power, classic and contemporary, using weathered textures combined with natural materials for an unpretentious grace. "The inspiration for my collections comes from thinking about how we construct our identity," explained Rayburn. "I create narratives for my work that intertwine ideas about mythology and tradition using materials and symbols that are provocative and engaging."
A carefully curated selection of unique jewelry and accessories will be featured at the event. "My designs are often bold, balancing beauty with function and comfort. For most women, image is important and the presence we bring to a room is often dependent on how good we feel about the way we look," said Rayburn. "I believe that the right accessory, be it a handbag, a scarf or a piece of jewelry, can give a woman credibility and distinctiveness, making her look and feel poised and confident."
The Appleton Mills venue is located at the 219 Jackson Street Atrium, Lowell, MA. Registration and networking starts at 6:00pm and the main event runs from 6:30pm – 8:30pm.
To RSVP go to Mass.InnovationNights.com
About Jenne Rayburn:
Jenne Rayburn is a Boston-based jewelry and textile artist who also studied interior design and architecture, and her work evolves from the overlap between architecture, design, technology and art. Jenne is known for her designs made from reusing vintage textiles, findings and components, found while foraging in antique shops and vintage markets. A graduate of the University of Washington where she studied metalsmithing and fiber arts, and of the University of Massachusetts, Amherst with a MS in Design, Jenne has been designing jewelry and apparel for over 20 years. Perpetual curiosity and a passion for experimentation resulted in her first jewelry collection made from etched copper and brilliantly colored enamel. Since then Jenne has created six unique collections that combine careful workmanship with unique materials and designs. It is her hope that the wearers of her pieces find joy in a delightful artistic statement, and also something that enhances their individuality and confidence. Her work is carried in local galleries and online. Please visit http://www.jennerayburn.com for Jenne Rayburn's online flagship store. For wholesale information, please visit http://www.jennerayburn.com/wholesale.rhtml