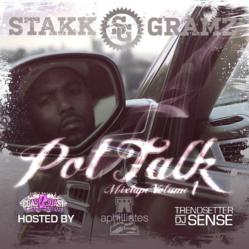 Miami, FL (PRWEB) April 10, 2012
Rap artist Stakk Gramz recently released his mixtape "Pot Talk Mixtape Volume 1." Coast 2 Coast Mixtapes presents the project in association with The Outfit Entertainment. Hosted by DJ Sense and mixed by Wildman Teddy T, it is now available for free download. "Pot Talk Mixtape Volume 1" features Stakk Gramz on tracks with guest artist appearances from Jihad, Block 125, Oola The Boss, Joneszilla, Marie Effect, and Fire Red.
Stakk Gramz prides himself on being the Baltimore experience—he is a part of the city. Gramz grew up hard and fast on the gritty streets of Baltimore, MD where broken homes and broken dreams are part of the norm for many people. He has fought adversity throughout his life, always finding a way to make things happen for himself. Through it all, Gramz has remained a loyal, do-or-die soldier who crushes through the concrete roadblocks life has put up in front of him. Stakk Gramz has described himself as hungry, with an energy fueled by the release of his debut EP "Pot Talk," which has been featured on prominent music blog sites such as teambiggarankin.com, coredjs.com, fakeshoredrive.com, virdiko.com, and swaggnews.com. His single "Only For Tonight" garnered radio spins in several major markets, including Baltimore, Memphis, Louisville, Baton Rouge, and London. Now with the release of the first installment of the "Pot Talk" mixtape series, he encourages listeners to stay tuned and follow his movement.
"Pot Talk Mixtape Volume 1" is available for free streaming and download at http://coast2coastmixtapes.com/mixtapes/mixtapedetail.aspx/pot-talk-mix-tape-volume-1