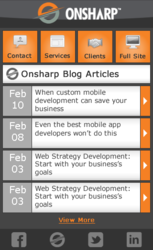 The mobile version of Onsharp.com has many reasons it might be cooler.
Fargo, North Dakota (PRWEB) April 11, 2012
Since the mobile specific website for Onsharp launched earlier this month, visitors may argue that the mobile site is cooler than the full site. The full site, http://www.onsharp.com, launched in January 2012 with a fresh, visitor focused design. And it is pretty cool. But the mobile version has many reasons it might be the cooler site.
Mobile responsiveness is one of the greatest benefits of the new mobile website. When typing Onsharp.com into a browser, the site knows if the visitor is using a computer, tablet, or mobile phone. If a visitor is using a mobile device, they will be automatically served the mobile version of Onsharp.com. The responsiveness means no more painful scrolling or zooming in until a small fraction of the site is readable.
Most of the time, mobile visitors of Onsharp.com are not looking to spend hours reading every page. Our mobile visitors find simplified navigation that includes the option to visit the full site. The main pages of the mobile site include Contact, Services, Clients, and Full Site. By offering these four easy to read pages, customers can usually find what they are looking for quickly and efficiently.
At the beginning of the mobile discussion, the question was whether Onsharp needed a mobile site or a mobile app. For now, a site will satisfy the needs and desires of our clients and website visitors. There was no need for a fun game about web development or any type of support or service app. In the future, Onsharp clients may be able to submit a support ticket or see a dashboard of the custom software being developed by Onsharp with a mobile app. Until then, customers can explore the custom mobile site.
The mobile site can be viewed on a regular laptop or desktop by visiting m.onsharp.com (although it looks weird since it is designed for small screens.) Is the mobile site cooler than the full site for Onsharp.com? The visitors will have to decide!
Onsharp is an interactive agency that architects, builds, and supports web-based solutions. We're passionate about technology, but not just because we think it's cool. We are experts at helping businesses understand how new technologies and trends can help them meet customer demand while improving productivity. Onsharp strives to create success in the lives of all people, businesses, and communities they serve. For more information about Onsharp, please visit http://www.onsharp.com or call toll-free at 1.866.ONSHARP.