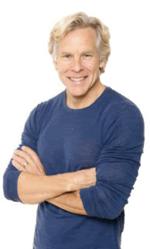 The Primal Blueprint is based on lifestyle principles that have governed human health, evolution and peak performance for over two million years, and it's supported by respected research in the fields of epigenetics and evolutionary biology.
Chicago, Illinois (PRWEB) April 12, 2012
The paleo buzz is here, having finally reached the Midwest with reference to living a healthier, leaner, life via the Primal Blueprint. But what is it? What's the fuss all about? Can Chicagoans go primal? Founder of the Primal Blueprint and acclaimed author, Mark Sisson, will be on hand to answer these questions and many more at a seminar hosted by the Personal Trainers of CityWide SuperSlow® (CWSS) on Monday April 30, 2012, at the JW Marriot Chicago.
Officially titled, "The 21-Day Primal Blueprint Transformation," the three-hour seminar lays out a revolutionary plan for healthy living including fitness and nutrition. The program will emphasize eight key concepts and five action items detailed in Sisson's book, The Primal Blueprint 21-Day Total Body Transformation. (Each participant will receive a copy.) The three-hour seminar will detail a "cut to the chase" adaptation of a Primal lifestyle, transitioning the body from the carbohydrate-dependent, fat storing Standard American Diet with a low metabolism into a fat burning machine much like our primal ancestors. His scientific-based approach to eating dispels myths about weight loss and points to the latest research indicating the need to moderate insulin production by eliminating sugar and grains to lose excess body fat without dieting.
Sisson's high energy and fast-paced program will consist of a live presentation, entertaining slide show, and audience Q&A interaction. According to host Denise Morton, Partner at CityWide SuperSlow®, "At the end of the seminar, attendees will know exactly what to do in order to 'get Primal' in just 21 days, and they will truly understand the best choices in each food category. In just three weeks they will also notice a difference in the way they feel...better. I have been following the Primal Blueprint for the past year and we encourage our clients at CWSS to go primal.
This is the answer to how you can achieve sustained weight loss. We are both eager and excited to share the Primal Blueprint with Chicagoland!"
According to Sisson, in order to best determine how to lose weight and be healthy, we need to examine our genes. He approaches the issue from a perspective of an evolutionary biologist and says that humans evolved for 2 million years eating substantial quantities of high fat animal products, veggies, fruits and nuts. Only in the last 10,000 years has mankind been eating grains.
For fitness, he says that "chronic cardio" – a consistent pattern of sustained workouts that are slightly too strenuous, conducted too frequently with insufficient rest between - is a bad idea and it floods the body with stress hormones. Instead he suggests looking at our ancestors who spent most of the day milling around, occasionally lifting heavy objects, and doing some sprints every now and then. Translated, Sisson recommends increasing general activity (taking the stairs, brief morning or evening strolls), structured aerobic workouts and comfortable heart rates (75% of max or less) - for a total of 2-5 hours per week, lifting weights with high intensity two times a week, and running sprints once a week.
Mark Sisson has spent the last several decades on a quest for health and wellness. His book and plan, The Primal Blueprint is all about helping people discover how simple and fun lifelong wellness can be. Sisson provides a complete diet, exercise, and lifestyle philosophy to help people enjoy the process of weight loss, vibrant health and boundless energy. According to the author,"The Primal Blueprint is based on lifestyle principles that have governed human health, evolution and peak performance for over two million years, and it's supported by respected research in the fields of epigenetics and evolutionary biology. The Primal Blueprint challenges many elements of conventional wisdom that are deeply flawed and are making people fat, sick and burnt out - even well-meaning fitness enthusiasts who are trying to do the right thing. It supports the theory that health and fitness can be simple and fun instead of the mainstream approach that involves struggle and suffering."
For more information and to register for the seminar go to: http://primalblueprint.com/products/The-Primal-Blueprint-Transformation-Seminar%3A-2012.html
###
About CityWide SuperSlow®: Located in a loft space in the heart of Lincoln Park since 2002, CityWide SuperSlow® is a private professional, personal-training environment with no mirrors, music, cell phones or crowds to distract your ability to concentrate. High intensity exercise is performed on specialized MED-X equipment that allows for slow, frictionless movement and full range of motion under controlled speed. Precise records are maintained for every person's individual workout performance. CityWide SuperSlow® strives to provide our clients with the quality of high intensity training and support they need in attaining their goals. For more information, visit http://www.citywidesuperslow.com.