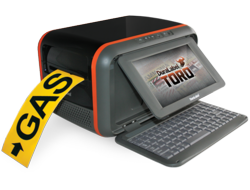 Portland, OR (PRWEB) April 17, 2012
Graphic Products, a leading global manufacturer of industrial label printers with more than 25,000 labelers in the field, has instituted a new, free 3-year warranty which applies to its family of DuraLabel thermal transfer printers. The warranty covers the entire printer including the print head and applies to all new printers sold after April 1, 2012.
The company also offers an iron-clad warranty on its supplies which states:
If labels made with DuraLabel Premium Vinyl fail within five years of purchase, we will provide a one-time replacement roll of the same supply. The warranty applies to DuraLabel Premium Vinyl Tapes and DuraLabel XPressPeel Vinyl Tapes. These tapes are DuraLabel's most popular vinyl labeling material and are used for applications such as pipe marking, safety signage, arc flash, 5S labeling, and OSHA required labeling.
With both warranties, DuraLabel helps ease purchasing decisions and increase peace of mind on labeling purchases.
DuraLabel's lineup of printers includes:
•DuraLabel PRO 300, a desktop thermal transfer sign and label printer designed to handle a wide variety of jobs. It uses label tape widths from ½ inch to 4 inch and prints in high quality 300 dpi. Create custom pipe markers, arc flash labels, NFPA signs.
•DuraLabel Toro® is a stand-alone portable custom label printer which doesn't require network connectivity or IT support. Toro can also be run on a battery with a 3 hour average continuous print time. The adjustable Toro touch screen can be set to four different angles for optimum viewing and touch accessibility. Use the wireless mouse or touch screen to design and print custom signs and labels.
•DuraLabel 4000 label and sign printer creates 1" to 4" wide tapes and die-cut labels in 203 dpi resolution — at speeds up to 3" per second.
•DuraLabel 7000 is ideal for creating signs or larger labels, up to 7" wide.
•DuraLabel 9000 prints up to 9 inches, allowing users to create highly visible signs and labels for the workplace.
•DL 2000 Plus. Lightweight and simple to operate, the DuraLabel 2000 Plus delivers superior thermal transfer printing performance and fits in the palm of the hand.
Driven by the desire to innovate and provide the highest quality supplies for customers, all DuraLabel printers and supplies undergo constant testing to assure the level of resilience and durability necessary to perform in a wide range of workplace conditions and climates. Using certified testing equipment, DuraLabel's team of technicians check adhesive strength, print quality, surface quality, tensile strength and elongation, and film and adhesive thickness to ensure that all printers and labels meet or exceed specifications.
With more than 50 unique labeling supplies, Graphic Products, Inc. is equipped to solve problems in the industrial safety arena -- providing the right label material for nearly every type of application including arc flash, pipe marking, facility safety, mining, food processing and construction.
Graphic Products carries a broad spectrum of thermal transfer printers for every application, free technical support/after-sale service, and satisfied customers throughout the world including P&G, Amazon.com, Georgia-Pacific, Boeing, John Deere, Conoco, Sara Lee, Toyota and General Electric. For more information, visit Duralabel.com.