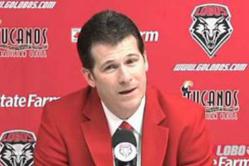 "We are thrilled to bring Lobos athletics to Santa Fe listeners and we look forward to seeing everyone at the Alford meet-and-greet at Buffalo Thunder," said Scott Hutton, general manager of Hutton Broadcasting
Santa Fe, New Mexico (PRWEB) April 11, 2012
SantaFe.com and Hutton Broadcasting welcome the University of New Mexico men's basketball coach Steve Alford during a public meet-and-greet appearance from 5:30 to 7 p.m., Wednesday, April 11 at Buffalo Thunder Resort's Hilton pool area. Admission is free and open to the public. The event, which is hosted by the UNM Lobo Club, offers Lobos fans an opportunity to ask the coach questions and glean details about the team's impressive 2011-12 season and tournament run.
The same day, Hutton Broadcasting will announce a new five-year agreement with the Lobos Sports Radio Network to broadcast UNM football and men's basketball games live on ESPN Santa Fe 1400 this fall. The games begin airing Sept. 1, when the Lobos football team and its new coach, Bob Davie, take on the Southern University Jaguars. Programming will include play-by-play commentary, full pre-game, halftime and postgame analysis, as well as interviews with coaches and players.
"We are thrilled to bring Lobos athletics to Santa Fe listeners and we look forward to seeing everyone at the Alford meet-and-greet at Buffalo Thunder," said Scott Hutton, general manager of Hutton Broadcasting. "New Mexicans love their Lobos and thanks to this partnership, they will have access to all football and basketball games next season and well into the future."
About SantaFe.com/Hutton Broadcasting
SantaFe.com provides Santa Fe locals and visitors alike the most current interactive platform for events, music, arts, business, dining and lifestyle. SantaFe.com is a division of Hutton Broadcasting, located at 2502 C. Camino Entrada, Santa Fe, NM 87507
Contact Information:
Scott Hutton
SantaFe.com / Hutton Broadcasting
http://www.santafe.com
(505) 471-1067 (Media inquiries only, please)
About the University of New Mexico Men's Basketball Team
The UNM Men's Basketball team is headed up by Coach Steve Alford. The Lobo's ended the season on a high note at 23rd in the final ESPN/USA Today Coaches poll. They were the only team in the Mountain West conference ranked in the season ending poll. It was the 10th time in team history that UNM finished the basketball season ranked in the top 25 teams in the final Coaches poll
About the University of New Mexico Football Team:
The UNM Football team is headed up by Coach Bob Davie. Lobo football is coming off a one win season in 2011, but the team has high expectations for the 2012 with 16 returning starters and total of 46 returning Letter winners. The 2012 season begins with a home game at University Stadium, located at the corner of Avenida Cesar Chavez and University Blvd SE in Albuquerque, New Mexico, against the Southern University Jaguars on Sept. 1, 2012.