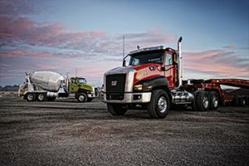 San Diego, CA (PRWEB) April 12, 2012
Hawthorne Power Systems will be showcasing the new Caterpillar© CT660 On-Highway Vocational Truck on April 26, 2012 from 11:00 am to 2:00pm at 16945 Camino San Bernardo, located in San Diego, CA.
This see-it-live event will also include BBQ Lunch, giveaways and raffles, equipment review and displays, and a special appearance by Valerie Thompson, a two-time land speed record holder (top speed 201.010 MPH).
To R.S.V.P. for this event, please call 855-675-6424 or info@hawthornecat.com. For individual walkaround appointments after 2:00pm, please call Joel Gollihur at 858-688-0084.
About the Cat CT660
Among the most significant new products ever launched by Caterpillar is the Cat® CT660, the first model in a full line of Class 8 vocational trucks designed to work as transit mixers, refuse haulers, dump trucks and in any application requiring a heavy-duty truck with the reliability, durability and low cost of ownership characteristic of Cat products.
Superior power-train and chassis
Engine options for the CT660 include the Cat CT11, CT13 and CT15—with displacements of 11.1, 12.5 and 15.2 liters—provide horsepower ratings from 330 to 550 and peak torque ratings from 1,450 to 1,850 lb-ft. The engines are designed specifically for vocational applications, yielding optimum horsepower/torque combinations, while providing customers the flexibility to match power and performance to specific applications and operating conditions.
The engines combine an advanced exhaust-gas-recirculation system with a high-pressure common-rail fuel system, precision intake-air management system and electronic controls to provide an optimum blend of high performance, low emissions and superior fuel economy. The Compact Grapite engine block, designed to deliver unprecedented durability, reduces weight
by as much as 500 pounds compared with conventional all-iron designs. Reduced engine weight enables users to increase payloads for added efficiency and profit.
The combination of dual, sequential turbochargers and a precise fuel injection system allows CT Series engines to develop peak torque at lower speeds, a characteristic that reduces shifting and also allows for shifting at significantly lower speeds. The new engines are also designed for fast routine service by providing easy access to components from the valve cover to filters.
A notable transmission option for the CT660 is the Cat CX31 automatic, a reliable, proven performer since 2004 in global vocational applications. The CX31, with six forward speeds and one reverse, is built to complement the torque output of Cat CT Series engines. The transmission features heavy-duty clutches and gear sets that allow full-power shifts, increasing efficiency and productivity, while reducing drive train shock loads.
An electronic control module, mounted directly on the transmission to simplify wiring and to boost reliability, regulates shift points based on throttle demand and vehicle speed. With adaptive shift-control logic, the CX31 can sense driver operating style to balance fuel economy and performance, while assuring easy operation for improved productivity and safety. Power-take-off options for the CX31 include two side locations and a high-output rear location, which delivers constant live power under all operating conditions.
An aluminum lock-up torque converter in the CX31 allows the CT660 to make quick starts from a dead stop, even with heavy loads. The payoff is increased operating efficiency, resulting from correct speed and torque combinations for different applications and reduced fuel consumption. In addition, the CT660 can be specified with other transmission options, including the manual and UltraShift Plus vocational transmissions built by Eaton.
The CT660 chassis, fabricated of durable, heat-treated alloy steel, provides the full strength of a Class 8 heavy-duty foundation required for accommodating vocational bodies. Inner rail reinforcements are available for both the one- or two-frame liner options. The chassis features a set-back axle and is available in either 116-inch or 122-inch bumper-to-back-of-cab lengths.
Both chassis lengths feature an extra-tight turning radius for enhanced maneuvering and driving performance.
Exterior features
The CT660 aluminum-alloy cab provides longer life than conventional steel cabs and weighs approximately 250 pounds less. Less weight means larger payloads and potentially higher profits. In addition, an aerodynamically sloped hood increases visibility for the driver and decreases wind drag to improve fuel efficiency. The modular hood design allows customers to replace only damaged sections, resulting in lower repair costs and less downtime. An all-metal grille surround also uses modular design, as does the three-piece, stainless steel bumper.
Large power mirrors, heated to handle inclement weather, are cowl mounted for greater stability and fewer adjustments. For safety, turn signals are integrated into the mirrors. Halogen headlight bulbs are easy to access, inexpensive to replace, and are protected with impact resistant covers.
Among a long list of safety features built into the CT660 are one- or optional two-piece windshields that are curved and sloped to offer an uncompromised view of the road. Generous door openings, skid-resistant steps, three-point grab irons and ergonomic non-slip door handles combine to make the CT660 exceptionally accommodating to enter and exit.
Interior comfort and convenience
The spacious cab is thoughtfully designed to help reduce driver fatigue, enhance safety and increase productivity. Premium interior features include an air-suspension driver's seat, with adjustable lumbar support, that reclines and adjusts to fit any driver comfortably. A premium sound insulation kit, built into the doors, damps outside noise and keeps the interior remarkably quiet. An effective heating/ventilating/air-conditioning system is designed to keep the cab interior comfortable in any climate, using unique round vents that are positioned for optimum air flow and allow quick defrosting of windshield and side windows.
The CT660 dash and center stack feature easy-to-read gauges that are designed for easy viewing through the steering wheel, and the speedometer and tachometer are combined in one
gauge, allowing space for optional gauges required for specific vocational applications. The cab-interior materials and surfaces, including the integrated floor mat and one-piece rubber seat skirt, are designed for easy cleanup and long life. And drivers will never want for adequate storage space.
The center stack also houses an interface for Product Link, a proprietary Cat telematics system that collects data from on-board systems and transmits the information via satellite and cellular networks to a secure Internet site. The system allows owners and fleet managers to remotely track critical information for more efficient asset management. Product Link is a standard factory installed feature with a complimentary three-year service subscription.
For more information on the new Class 8 CT660 visit http://www.drivecat.com