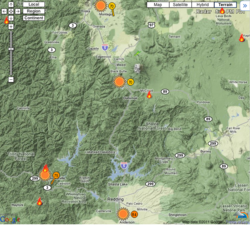 We are so thrilled to have created such a buzz.
Dunsmuir, CA (PRWEB) April 11, 2012
FireWhat Inc., a start-up in tiny Dunsmuir, CA (pop. 1650) is getting their brand out worldwide. The company, founded last year by professional firefighters, is in business to "bring life saving innovation to a technology deprived industry." The firm operates a website, firewhat.com, that monitors and tracks wildfires across the country. Three wildland apps have been built by FireWhat and the development team Pusher Inc., that capture the wildfire data from the website and place it in the palm of one's hand.
FireWhat Inc. released the Wildfire Home and Wildfire Info apps on April 3. In the past week, the apps have been downloaded in nineteen different countries, and received global appraisal. Sam Lanier, CEO and co-founder of the company, couldn't be happier. "We are so thrilled to have created such a buzz, and that this app is getting out. The whole idea is to create a venue for the dissemination of critical information during wildfire emergencies, and we are happy and proud to be a part of that service." During his seventeen-year tenure as a firefighter with CALFIRE, Sam witnessed in person the advantages that twenty-first century technology could bring to the fire service, and started FireWhat as a solution.
Several knowledgeable sources have identified 2012 as having potential for a particularly destructive wildfire season. Hopefully, the apps delivered by FireWhat can keep firefighters and citizens alike informed.