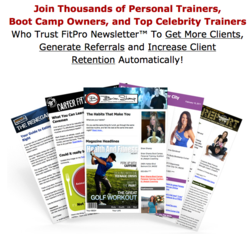 The fact is, money is in every fitness professional's email list but is being left on the table
Chino Hills, CA (PRWEB) April 12, 2012
Bedros Keuilian, founder of Fit Pro Newsletter explains that email marketing is one of the greatest fitness marketing strategies available. Not utilizing email capability means leaving money and potential clients on the table. "The competitive edge I'm talking about is communicating with your "tribe" through email marketing", comments Bedros.
If there's so much opportunity in personal trainer email marketing than why is it that many fitness professionals are not taking advantage of it? Quite frankly, most trainers either don't have the time to sit down in front of a laptop and write or when they do they get 'writers block' and don't know what to say. "It's true", says Bedros. "I've had trainers tell me they get what they call 'screen freeze' - the act of looking at a blank screen and freezing up each time you want to write an email broadcast."
The fact is, money is in every fitness professional's email list; the one that consists of current clients, potential prospects, business contacts, former clients and so on. Anyone looking to grow their business should be consistenly emailing this list. If not, they are missing out on new leads, new prospects, referrals, and clients. "This is what I mean by leaving money on the table", says Bedros. Sending an email blast with quality content is one of the best money making strategies of fitness marketing.
Personal trainers are busy and don't always have time to produce consistent emails and some don't like write or don't know what to say but that doesn't mean they shouldn't produce anything at all. There are other options available like outsourcing or having an automated system in place. However, Bedros states, "no matter how the emails are sent it's imperative to have unique, high quality content. People do not want to receive a sales pitch every week. This is the biggest turn off and will cause your email to end up in the trash can."
Clients like receiving informative content and they appreciate it more when they know, like, and trust you. So, the first step is to build that relationship with your email list, and once you do then sending a promotional email a few times a month (not daily or weekly) is okay.
What needs to take place in order to build trust between you and your clients? Consistent, quality content that is beneficial and useful. Not crap that no one cares about. There are three types of emails a fitness professional should use to build this trust: weekly e-newsletter, case study emails (showing clients success stories), and promotional emails, but remember the promotional comes after the trust is built.
"All of my 7 Figure Formula coaching clients and Fit Body Boot Camp owners use email marketing as one of their core prospecting, referral generation and client retention systems because it's predictable, very low cost, and it works so well," adds Bedros.
You can read more about personal trainer email marketing at Bedros's website, http://ptpower.com where he provides more detail and useful strategies to get the most out of this fitness marketing tool.
To find out more about Bedros Keuilian and his company PTPower.com and FitPro Newsletter, contact Bedros Keuilian on (800) 261-0208. Alternatively, you may use the contact form at http://ptpower.com/contact-me/ or send an email to Bedros Keuilian at support(at)keuilian(dot)com.