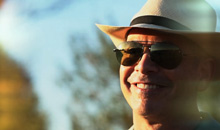 Communication is key and for that to occur a dialogue must begin. When people start talking, things begin to change.
Los Angeles, CA. (PRWEB) April 16, 2012
Douglas Stockel, DC isn't your average chiropractor. Known as Dr. D, the doctor has been consulting with many patients of the Southern California area for some time now. What makes Dr. D so special is how he does much more than evaluate spinal alignment and manipulative techniques to adjust out-of-balance areas. His wellness approach is about looking for underlying imbalances or disruptions and correcting them.
Dr. D also helps his patients with blood chemistry. With doing so, he's able to precisely identify nutritional deficiencies and imbalances and supports his patients in correcting them. When weight loss is part of a client's program, he never recommends diets. Dr. D believes that eating less can cause the opposite of good health. Instead, he helps each person find the right eating plan according to the latest nutritional research and his or her individual biochemistry, habits and preferences.
Douglas Stockel, DC does not stop there though. With simple but high-tech nutritional and neurological testing and principles of functional endocrinology, Dr. D takes chiropractic care to a new level – a comprehensive approach to prevention and wellness care that seeks not just freedom from disease or discomfort, but an energized state of balanced good health.
With a positive attitude, Dr. D develops effective methods to help patients with stress which is essential for maintaining wellness. Practicing this is very important to him since it is a big factor in achieving overall balance. "Integrative Health" addresses the essential help in combining the aspects of mind, body and spirit and how great the wellness of the human body is when all three are the healthiest they can be.
After years of enjoying the rewarding life that is helping many with his work, Douglas Stockel, DC has created the Wellness Entertainment Network (WEN) to educate and help more people with his show and helpful videos and information on the website. The Wellness Entertainment Network (http://www.thewennetwork.com) educates viewers through interviews with experts across the spectrum of wellness care, as well as advice and information from the doctor himself. The first episode of the Dr. D show will air on April 30th.
Dr. D says, "It happens at home." By bringing his wealth of knowledge into homes, he hopes to expand awareness and guide millions to better health.
For more information, please contact Gina Nemo or Tim Heague at G Plan Media 310.740.9417 or email at ginanemo(at)gplanmedia(dot)com or timheague(at)gplanmedia(dot)com.