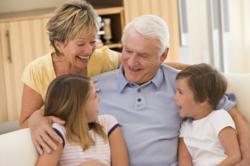 "Most church websites are developed and maintained predominantly for the use of congregants..." George Barna, Barna Research Group
Wheaton, IL (PRWEB) April 17, 2012
In their Pew Internet and American Life Project the Pew Research Center found that "Nearly two-thirds of online Americans use the Internet for faith-related reasons. The sixty-four percent of Internet users who perform spiritual and religious activities online represent nearly eighty-two million Americans."
Among the most popular and important spiritually-related online activities:

Thirty-eight percent of the nation's 128 million Internet users have sent and received email with spiritual content.
Thirty-five percent have sent or received online greeting cards related to religious holidays.
Thirty-two percent have gone online to read news accounts of religious events and affairs.
Twenty-one percent have sought information about how to celebrate religious holidays.
Seventeen percent have looked for information about where they could attend religious services.
Seven percent have made or responded to online prayer requests.
Seven percent have made donations to religious organizations or charities.
The potential for outreach on the Web is almost limitless.
To learn how to capitalize on this powerful tool, take a few minutes to cruise the websites of America's mega-churches. The vast majority follow the template of a corporate website—who we are and what we do. The foremost researcher on church trends, George Barna, says, "The most common content includes scheduled activities at the church, background information about the church, and current church news …Most church websites are developed and maintained predominantly for the use of congregants, although pastors are most likely to say that the target audience was people from outside their church."
For little or no expense, church websites can very easily be transformed into information portals that provide answers to life's most pressing questions and opportunities to interact with church families. The best sites create pages that bridge from some felt need to a gospel presentation like those listed in the back of The Casual Christian. Some great examples of bridge pages that lead the seeker from an awareness of a felt need to a deeper spiritual need are "Power to Change" by Campus Crusade and "Channels" on their Crosswalk website. Troubled With by James Dobson's Focus on the Family and the specialty sites on TruthMedia.com also have some very good bridge pages.
The best resource on the web for church leaders who want to make their church website more interactive is casualchristian.net. There are online tutorials, links to free resources, and some tips and tools to get even the least tech savvy webmaster started. Here is a sample selection of quick tips:
1. Replace pictures of facilities with photos of friendly faces on the home page. The church is not a building. It is God's family.
2. Minimize talk of ministries. This is a word that connotes insiders and outsiders. Focus instead on stories of God's grace in the lives of your members.
3. Eliminate all 'church speak,' words like 'seeker,' 'ministry,' 'believer,' etc. to minimize the sense that church is an alien environment for those who have never attended.
4. Show some warts and struggles. Church people are often perceived by outsiders as self righteous because they constantly offer solutions. They need to know they will find people like themselves in church.
5. Give users multiple opportunities to interact with church members online from the safety of their own homes and offices so it will be easier to meet in person.
6. Somehow show that the church really cares. Feature stories of people who have experienced the love of the body of Christ in some tangible way.
For a complete list of website strategies and resources see The Casual Christian chapters entitled "Hide it Under a Bushel - NO!" and "The Gospel Gone Viral"