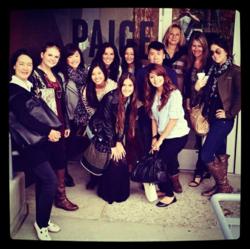 Los Angeles, CA (PRWEB) April 11, 2012
In addition to on-campus visits from top industry leaders and alumni, students at the fashion school FIDM/Fashion Institute of Design & Merchandising also take exciting industry field trips and have the opportunity to travel on special industry-related Study Tours. Recently, a lucky group of Merchandise Product Development Students enjoyed a denim tour around San Francisco and Los Angeles, where they got an insider's view at the denim manufacturing process and had the chance to rub elbows with CEOs and company directors at labels such as Levi Strauss, Guess, 7 For All Mankind, Joe's Jeans, and Paige Premium Denim.
Ten members from the Premier Product Development Group, created for high achievers who have been recommended by instructors, had a whirlwind few days getting a behind-the-scenes look at some of the world's most successful denim companies. At Levi Strauss, the students got a sneak peek at the fall 2013 collection and heard from the label's official historian regarding the brand's history. Meanwhile at Guess, the group met with FIDM Graduates Beau Lawrence and Charles Sands and watched a demonstration of how denim is whiskered, sanded, and washed.
"Everything we learn in class really does exist!" exclaimed FIDM Student Janessa Landeen. "We got to see everything from laser printing to PFD's (prepare for dye), to lab dips and washing." During the visit to 7 For All Mankind, they were able to see where all of the brand's sewing, cutting, and embroidery happens and were gifted a portfolio case. At Paige Premium Denim they met with employees from every department and at Joe's Jeans, CEO Marc Crossman took the students on a VIP tour.
FIDM/Fashion Institute of Design & Merchandising is a co-educational, specialized, private college dedicated to educating students for the Fashion, Graphics, Interior Design, and Entertainment industries. Known as a one of the top fashion design schools, FIDM is also a leading graphic design school and digital media college. Visit fidm.edu for more information.