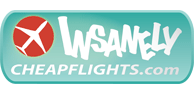 (PRWEB) April 11, 2012
For weeks, travelers have been taking advantage of the expansive airline ticket sale at InsanelyCheapFlights.com to save on airline tickets to thousands of destinations. The site announced today that its popular flight sale will be extended through the end of April to accommodate travelers still making summer plans. The sale, which started earlier this year with cheap tickets to Las Vegas and New York, now covers flights to most of the U.S. and Europe.
"It's been a big success," says CEO Steve Oliverez. As travel budgets remained constrained in the current economy, the company decided it was time to help take the pressure off. "With a gallon of gas getting closer to the $5 mark, a lot of people had to scale back on travel plans. We want to help reverse that."
All visitors to InsanelyCheapFlights.com are presented with a promotional code good for up to $20 off airline tickets booked through the site. The promotion currently includes cheaper airfare to Las Vegas, Miami, Orlando, as well as many other popular destinations, and is good for travel dates through the end of the year. The sale runs through April 30th and applies to service fees.
InsanelyCheapFlights.com was founded in 2009 with a focus on finding the cheapest flights available online. While many travel sites have shifted gears in recent years toward promoting hotel offerings, InsanelyCheapFlights has maintained its focus on cheap airline tickets. This approach has allowed the site to gain traction against larger, more established websites. The past three years of rapid growth has made the travel startup a real contender in the industry.
In addition to flights and hotels, InsanelyCheapFlights also offers deals on travel packages and car rentals.