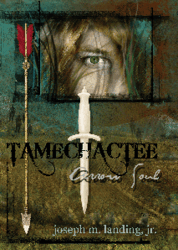 An ancient Native American legend tells of a hero who will emerge as a great leader just in time to save the world from a major catastrophe.
Mount Pleasant. SC (PRWEB) April 17, 2012
Eighteen-year-old Marcus is fed up with school and his abusive uncle. When he gets the opportunity to escape that life, he does so. As this new story reveals, he's about to have the adventure of a lifetime. An ancient Native American legend tells of a hero who will emerge as a great leader just in time to save the world from a major catastrophe. Could Marcus be that hero, the Tamechactee?
"Tamechactee: Arrow Soul" delves into the mythology of the Malchactean tribe, which split from the Cherokee more than 300 years earlier. Malchactean means "Follower of God," and the tribe worships only the one true God. Marcus feels at home with the tribe and begins learning its ways, demonstrating incredible skill with a bow – hitting 18 bull's-eyes in a row with only 15 minutes of lessons. But his newfound sense of peace is short-lived. The evil being known only as The Maker has begun his horrible plan, setting off nuclear bombs to bring humans into submission, not to simply kill them.
As the Tamechactee, or Arrow Soul, Marcus can control any moving object with his willpower. He and other survivors of the explosions, shape shifters from France and Earth-trapped spirits must lead an army against those determined to take over the world, following the prophecy revealed hundreds of years ago by the tribe's chief – now a ghost. Taking place around the world, this adventure story like no other contains unforgettable characters who undergo transformations they never imagined as they begin a battle humanity will never forget.
Author Joseph M. Landing Jr., a sophomore at Wando High School in Mount Pleasant, began writing this novel when he was 13. A book lover from an early age, Landing started reading on his own in kindergarten. He soon showed his vivid imagination and flair for the dramatic. This second degree black belt has attended the Duke Young Writers' Camp and is working on the sequel to his first novel.
----------
For additional information, please visit http://www.tamechactee.com.
Tamechactee: Arrow Soul
Joseph Landing Jr.
Dog Ear Publishing
ISBN: 978-1-4575-0836-3 392 pages $24.99 US
Available at Ingram, Amazon.com, Barnes & Noble and fine bookstores everywhere.
About Dog Ear Publishing, LLC
Dog Ear Publishing offers completely customized self-publishing services for independent authors. We provide cost-effective, fast, and highly profitable services to publish and distribute independently published books. Our book publishing and distribution services reach worldwide. Dog Ear authors retain all rights and complete creative control throughout the entire self-publishing process. Self-publishing services are available globally at http://www.dogearpublishing.net
and from our offices in Indianapolis.
Dog Ear Publishing – self-publishing that actually makes sense.