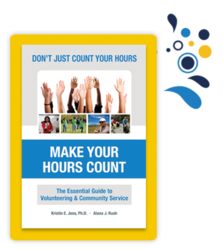 Gainesville, FL (PRWEB) April 11, 2012
Dr. Kristin Joos will host an interactive discussion on the morning of April 12 at the National Service-Learning Conference in Minneapolis. The workshop is titled "Make Your Hours Count: Integrating Service Learning and Social Entrepreneurship to transform Students from Volunteers to Changemakers," and it will show attendees how to implement service learning projects to effectively empower high school and college students to learn, understand and practice the skills of changemakers.
After the workshop, Dr. Joos will sign copies of "Don't Just Count Your Hours, Make Your Hours Count," an esteemed volunteer guide she co-authored with Alana Rush.
"'Don't Just Count Your Hours, Make Your Hours Count' shows you how you can make the most of your service and become a changemaker, which will help put you on the path to success in whatever you do in life," said Gretchen Zucker of Ashoka's Youth Venture.
Joos is the Coordinator of the University of Florida's Innovative Sustainability & Social Impact Initiative and is the founder and director of Young Entrepreneurs for Leadership & Sustainability, a summer program that educates and empowers college bound high school students to become entrepreneurs, social entrepreneurs and leaders. In 2007, Dr. Joos was named Service-Learning Professor of the Year at the University of Florida.
At the National Service-Learning Conference, there is an entire schedule of interactive workshops created specifically to inspire young people to generate change in their communities and around the world. "Don't Just Count Your Hours, Make Your Hours Count," is a tool written to help accomplish this same goal.
The guide can be purchased online, or at NSLC in the bookstore. Additionally, in honor of National Volunteer Month, service-learning and volunteer management website NobleHour.com is giving away one free copy each weekday in April.
About the National Service-Learning Conference
Originating in Minnesota in 1989, the National Service-Learning Conference is the largest gathering of youth and adults involved in the service-learning movement. Each year, it draws approximately 2,200 attendees from across the United States and around the globe. The National Service-Learning Conference focuses on service-learning as a way of teaching and learning that builds academic skills and citizenship while addressing community needs in a genuine way.
About NobleHour
NobleHour is based in Lakeland, FL and was started by a team of knowledgeable business investors, representing over 70 years of unparalleled entrepreneurial and business experience. They developed SweatMonkey.org in 2005 as an online service learning management platform for students and schools. SweatMonkey was used by countless organizations such as the YMCA, the SPCA, the United Way of North Central Florida, and the University of Florida. SweatMonkey was rebranded and launched in 2012 as NobleHour.com.
###