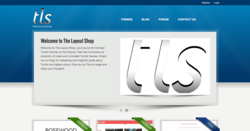 We are very excited to launch the site, which should be in the coming weeks
Los Angeles, CA (PRWEB) April 12, 2012
The Layout Shop is saying that their new management team is in its final stages of completion of work on the new website redesign. The new team is expecting to announce the launch of the new website in coming weeks.
First announced almost a month ago, The Layout Shop had been working on major redesigns for the website under the new management team led by website manager Nicolas Camp and lead web developer Ken Morales.
"We ran into a few hitches during the process of redesigning the site" says Camp. He adds that they found a few redundancies in the system and had to prioritize on fixing those first. "There were problems popping up that had to be addressed first. This caused us few delays but nothing we couldn't work around."
The team also announced that they have begun work on designing new themes to be added to their theme gallery. This is perhaps the most anticipated development on their site as The Layout Shop has enjoyed some success in the sales of their current collection of themes.
"With the new site almost ready to launch, I've redirected most of the web development work towards designing a new theme Tumblr users have been looking forward to for a while now" says Morales.
The new management team was introduced last February along with the announcement that the website was under new management. Since then, the team had been working on taking steps forward and keeping the site competitive.
"We are very excited to launch the site, which should be in the coming weeks given that we don't run into any more problems" says Camp.
About The Layout Shop
The Layout Shop is an online Tumblr theme store specializing in professionally made and customizable premier and free themes for Tumblr. The site also features a tech blog about blogging and social media.
###