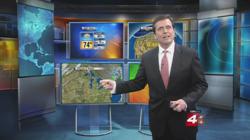 Weather Central makes it easy for our stations to deliver visually compelling weather forecasts, severe weather coverage, traffic insight and more, with pinpoint, local relevance.
Madison, Wisconsin (PRWEB) April 11, 2012
Weather Central, makers of the most viewed weather system in the world, today announced that Post-Newsweek Stations Inc., the television broadcasting business unit of the Washington Post Company, has completed installation of Fusion Studio™, ESP:LIVE,™ RouteCast® and NewsNavigator™ systems across all six of its owned and operated TV stations. Replacing previous systems with the new Weather Central systems enables Post-Newsweek to enhance weather, traffic and other news presentations at all of its TV stations, as well as to significantly upgrade the capabilities of its online JustWeather.com local weather service.
Weather Central systems have been deployed at WDIV-Detroit, KPRC-Houston, WPLG-Miami, KSAT-San Antonio, WKMG-Orlando, and WJXT-Jacksonville.
"Accuracy and reliability are the hallmarks of good reporting and are essential to sustaining the trust of our viewers," said Deborah Collura, vice president/managing director of News, Post-Newsweek Stations. "Weather Central makes it easy for our stations to deliver visually compelling weather forecasts, severe weather coverage, traffic insight and more, with pinpoint, local relevance. It is also the most effortless solution we have found for ensuring that content that goes on Post-Newsweek's JustWeather.com web sites is in perfect synchronization with our broadcast forecasts."
One of the lynchpins of the deployments is Weather Central's Forecast Tailor, a web app that provides a streamlined, seamless workflow that coordinates content delivery on air, online and mobile. Also included in the deployments are:
-Fusion Studio™ -- Weather Central's weather presentation system that provides a visually stunning, true 3D graphical environment and exclusive MagicTRAK™ interactivity that allows the meteorologist to deliver a completely non-linear presentation within an easy-to-create, real-time presentation.
-ESP:LIVE™ -- Weather Central's severe weather system featuring hyper-local mapping, the most advanced storm tracking algorithms, interactive data display capability and the most comprehensive array of radar displays including the National Weather Service's new dual polarization radar. This extensive suite of tools enables presenters to precisely gauge storm impact for their viewers.
-RouteCast® -- a complete interactive solution for presenting local, up-to-date traffic information
-NewsNavigator ™-- a complete interactive storytelling toolset for news presentations, including a comprehensive module for displaying live election video and data.
"As one of the country's premier media brands, Post-Newsweek has the highest standards for accuracy, quality and storytelling," said Bill Baker, president of Weather Central. "The suite of Weather Central tools now deployed at all Post-Newsweek stations will enable their meteorologists to deliver world-class weather reporting to their viewers online, on air and via mobile devices."
For a complete look at Weather Central's solutions visit http://www.wxc.com. All of the systems deployed at Post-Newsweek will also be demonstrated April 16-19 at the National Association of Broadcasters (NAB) show in Booth SL3911.
About Weather Central, LP Weather Central, LP, founded in 1974 by broadcasters and meteorologists based in Madison, Wisconsin, is the leading provider of professional on‐air, online, print, mobile and enterprise weather solutions and forecasting in North America and to major customers worldwide. Utilizing the Company's dynamic weather graphics, precise forecast models and data, and patented technology, more than 1000 partners and hundreds of millions of consumers worldwide benefit from Weather Central's attention to weather presentation, detail and insight.
© 2012 Weather Central, LP, Madison, Wis. All rights reserved. Product specifications and availability are subject to change without notice. Weather Central LP, Fusion, Fusion Studio, :LIVE, GENESIS:LIVE, 3D:LIVE, ESP:LIVE, MagicTRAK, LiveLine GENESIS, A.D.O.N.I.S. MicroCast, A.D.O.N.I.S. FutureCast, StormSentinel DV, WxWarn2, ScreenWRITER, SportsWRITER, SimulCAST, X‐Vision, Storm Vitals, TelePath, RainVision, SnowVision, FunnelPATH, CellPATH, HailZONE, GustZONE, MessoPATH, Always‐On Training, Instant Mapping and WxPoint are either registered trademarks or trademarks of Weather Central LP. All other trademarks contained herein are the property of their respective owners.