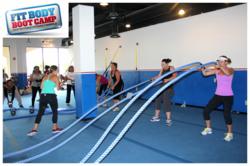 Obesity isn't just a personal problem. It is a national problem, says Steve Hochman, Fit Body Boot Camp Irvine Owner
Irvine, CA (PRWEB) April 11, 2012
Fitness Boot Camp Franchise Fit Body Boot Camp® Co-Founder Steve Hochman is challenging the residents of Irvine, CA to lose 1,000 pounds in 28 days by providing free boot camps for all participants who sign-up for the 1,000 pound Melt-Down Challenge. "The goal is to help Irvine, CA residents lose weight as part of Fit Body Boot Camp's Vision to expose and engage twenty percent of the world's population to a healthy and fit lifestyle by 2020," says Hochman. "Obesity isn't just a personal problem. It is a national problem."
According to the Centers for Disease Control and Prevention, there has been a dramatic increase in obesity in the United States, with more than one-third of the U.S. adults are obese, and approximately 17% of children and adolescents are obese.
A recent study in the New England Journal of Medicine found that people with close bonds set a great example for one another; if they gain weight together they can also lose it together.
By providing free boot camp workouts for participants who sign-up for the 1,000-pound Melt-Down Challenge, it is Fit Body Boot Camp Irvine's way to kick-start the fight against the obesity epidemic by getting as many people as we can to participate," says Hochman. "It is imperative that we inspire more people to work out and become healthy and participate in exercise by taking away the main barrier to entry, which is cost"
Fit Body Boot Camp Irvine is providing residents a chance to experience a 28-day workout program with nutritional support and an ability to track their weight loss. Hochman and his team of trainers will put each participant through a nutritional consultation before beginning the program to further help them reach their personal goals.
To find a Fit Body Boot Camp location near you, please check the Fitness Boot Camp directory at http://www.fitbodybootcamp.com
About Fit Body Boot Camp
Fit Body Boot Camp is one of the fastest growing fitness boot camp franchise companies. Fit Body Boot Camp's Global Goal is to expose and engage twenty of the world's population to a healthy and fit lifestyle by 2020. Fit Body Boot Camp was developed by 2 industry leaders in the fitness industry. Fit Body Boot Camp Owners currently train approximately 400,000 clients on an annual basis. To find out more about owning a Fit Body Boot Camp franchise, you can contact us at opportunity @fitbodybootcamp.com or on (888) 683-3222 ext. 1.