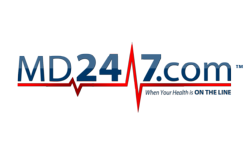 If you are a veteran, we want you at MD247!
Tampa Florida (PRWEB) April 11, 2012
Telemedicine provider MD247 is prepared to make a difference for veterans of any branch of the United States Armed Services, by providing fifty (50) veterans jobs within the MD247 telemedicine company under the "Hiring our Heroes" program.
After recent discussions with veterans groups, the MD247 family determined that it was not comfortable with the knowledge that those who served, now had difficulty maintaining a stable residence and very often went without hope of getting proper medical care. The reason for all of these things can be directly tied back to the economy, as well as the reality that employers no longer hold jobs for members of the National Guard or Reserves who have been called-up for active duty. The lack of jobs upon return has left all veterans scrambling for employment, looking very often outside of their area of training and finding a lot of scams and ripoff schemes requiring the veteran to submit personal information.
MD247 has the opportunity to turn things around one person/family at a time with a specific desire to hire fifty (50) military veterans from any branch of the United States Armed Services. All new MD247 jobs for the "Hiring our Heroes" program will be directly associated to either the MD247 healthcare administrative team, or the call center staffing. While some companies would think "jobs are enough," the MD247 family wants all veterans to know that MD247 wants to help ALL veterans in any way possible.
All veterans are encouraged to submit a resume via the MD247 Facebook Business Page.
Seminole Florida based MD247 (MD 247; MD/247; M.D. 247; MD247.COM) provides discounted telemedicine healthcare services nationwide to families, and discounted wholesale telemedicine healthcare to businesses. MD247 has successfully provided 25,000 people the ability to talk to a doctor twenty-four hours a day, talk to a nurse twenty-four hours a day, receive discounted prescription drugs and receive discounted in-person healthcare services. MD247 also promotes use of social media to follow the company on Facebook at http://www.facebook.com/md247dotcom, or on Twitter at http://www.twitter.com/md247dotcom. In addition to discounted healthcare services, MD247 provides support to groups supporting the employment of veterans of the United States Armed Services. MD247 services, as well as informational blogs, can be found for review online at http://www.md247.com.